Sustainability Report 2013
In the past, Furukawa Electric published a separate CSR Report and Annual Report; from fiscal 2013, these have been integrated into the Sustainability Report.
The financial statements that were included in the previous annual report are available as a PDF file separate from this report.
(note) The Sustainability Report 2013 will not be published in paper form. Thank you for your understanding.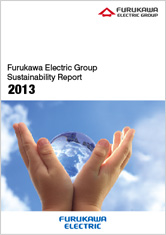 Back to the lastest sustainability report
Contact for inquiries about CSR