The driving force propelling Yoshihisa Kano to open new doors is his sense of curiosity toward people and technology.
Fellow at the Laboratories for Fusion of Core Technologies
Yoshihisa Kano
Encountering Adhesive Technologies
Here, adhesion means the adhesive technology that keeps the adhesive material from drying or hardening, with the idea in mind that it will later have the properties to be peeled off. As an easy-to-understand example, try thinking of a sticky-note or post-it note.
However, back when I was a university student, many adhesive mechanisms were unknown territory.
Why does it stick? Why does it peel off?
What factors control the strength of the adhesion?
How does it peel off cleanly? ...and so on.
When I was a third-year university student, I had a chance to participate in a lecture about adhesion that Professor Saburo Akiyama (note 1) had introduced to me. There, many different researchers from industrial, academic and government researchers argued seriously over opinions regarding the phenomenon of adhesion. Swept up by that overwhelming energy, I decided to join Dr. Akiyama's research lab.
(note 1) Currently Professor Emeritus at Tokyo University of Agriculture and Technology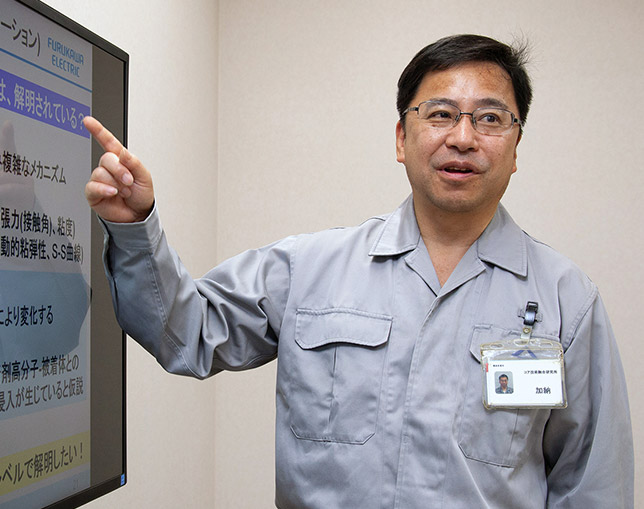 The Appeal of Basic Research
I was constantly taking in-depth data from experiments (sometimes working all night) at the research lab, as well as having the opportunity to experience giving presentations at academic conferences. In those days, I don't think there were many professors who encouraged their students to present at conferences like that. When we were doing experiments, Dr. Akiyama would tell us "You are the only ones in the world who are doing this research, you know," as he passed by in the lab. In any case, thanks to Dr. Akiyama, I have many great memories of enjoying those experiments. Because of this experience, I chose to work at an adhesive compound manufacturer.
At that company, too, we gathered in-depth experimental data, and were captivated by the joy of basic research as we worked to better understand adhesive mechanisms. However, continuing basic research gradually became more difficult at that company. And since I definitely wanted to continue basic research above all else, I returned to the university research lab. Although I didn't earn the same salary as I had when I was a company employee and my savings were disappearing, I felt entirely satisfied with my life as I spent all my time doing research that I enjoyed.
When I was around 33 years old, I identified mechanisms that could control adhesive characteristics with polymer blends, and I was awarded a Progress Award from the Adhesion Society of Japan. This was a phenomenal time in my life as a researcher.
After that, having recognized the high degree of expertise of Furukawa Electric, I joined the company in my late 30s. I have been engaged in R & D as well as business creation ever since.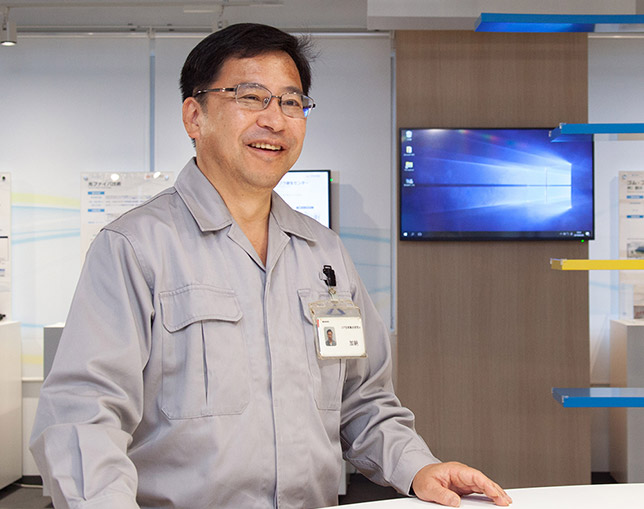 Role Models in My Professional Life
Prior to this, I had many opportunities to learn overall personal qualities from my many predecessors, such as judgement, decisiveness, determination, persistence, strictness and kindness. One of these people was Mr. Michihiro Shimada, the current manager of the Next-generation Infrastructure Creation Center at Furukawa Electric. He was known for having the impressive memory of an obsessive note taker, and an extremely accurate and comprehensive memory at that. He was even able to accurately recreate past debates as though pulling them out of a well-organized drawer. I wanted to absorb his management skills and I tried my best, but of course I wasn't the same at all.
I'm happy to have had the chance to meet such a remarkable teacher figure and so many others like him.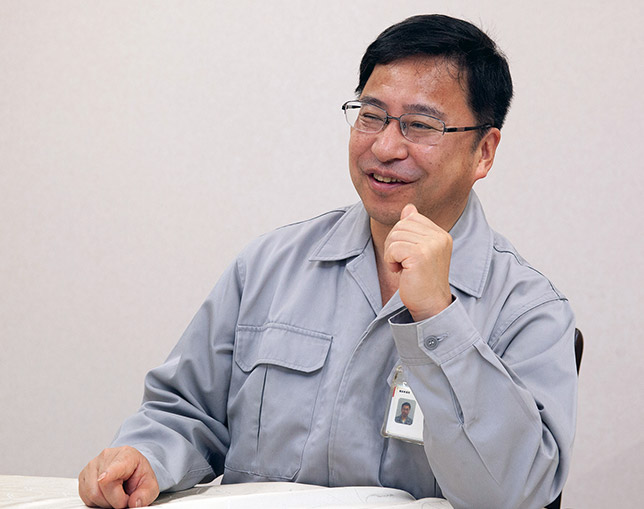 Make your work acquaintances your friends!
I deeply value regular communication from both within the company and outside it.
I don't just talk about work at the workplace. Chatting outside the office and about things other than work has provided me with deeper relationships. For example, I proactively engage in dialogue with people I am meeting for the first time at conferences or lectures. And if possible, we go for drinks together to socialize after finishing our work. I myself really enjoy social gatherings more than anything, and alcohol can help to remove barriers of formality. Whether you have a chance to work together or not, maintaining these long-term relationships will pay off.
When I have needed help solving an issue at work, even if it was something outside my own range of expertise, there were many cases where consulting with friends from conferences or universities led me to a solution. Networking outside the company has been a huge asset for me.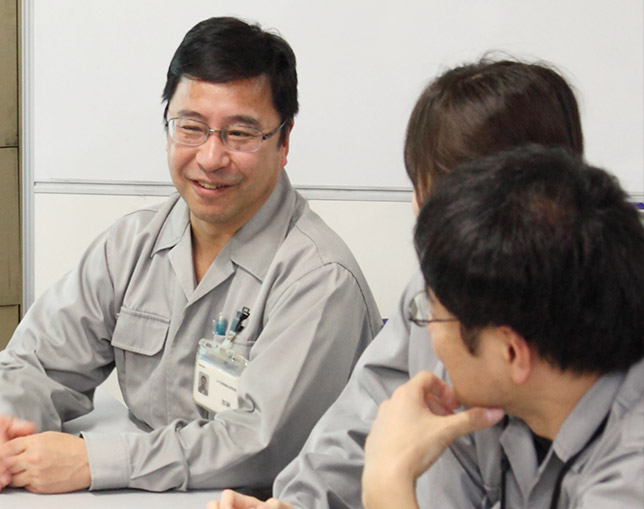 Fostering the Next Generation
When I first came out of university, I had a mindset for working in education. Even now as a current fellow, fostering young researchers is my overall mission and it makes me feel motivated and joyful. And socializing together with them is fun too.
I would like younger employees to actively approach me outside the company. I hope they will actively participate in conference presentations. Challenging ourselves against others is what really lets us improve the most. New opinions and realizations can be achieved through discussion and debate with people outside the company.
As one way of approaching this, I recommend that young employees create a mentor map. When I say a mentor map, I mean mapping out people (close friends, supervisors, teachers, former teachers, etc.) who can help you to grow. Combined with organizing the people you already know, I think this gives you a chance to think about who you want to become and who you want to try to meet from here on out.
As for the business matters that I am working on currently, I know that these might be my last few jobs, and I expect that the younger employees who are working on R&D with me will bring a high degree of motivation to our work.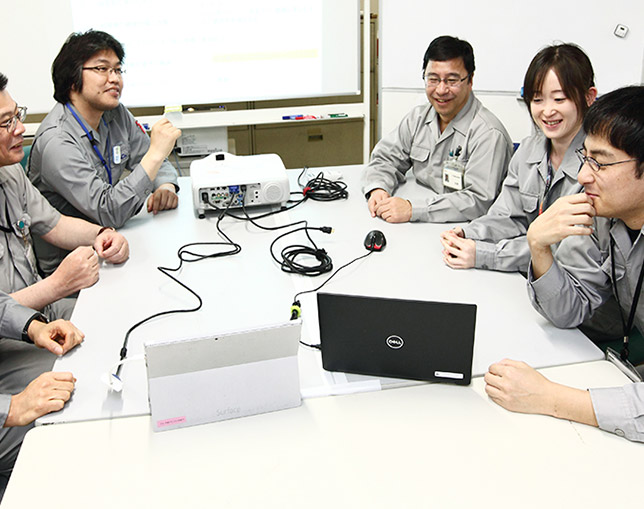 The Professional System at Furukawa Electric
Furukawa Electric has established a system to evaluate employee expertise separately from administrative roles such as board member or general/section manager, etc.
Yoshihisa Kano, who works as a fellow, has consistently worked in adhesive technology and high-polymer material research since his time in the university research lab, and he currently serves as a trustee of the Japan Adhesive Society.
As a fellow, Mr. Kano is involved in our business vision strategy, while also putting enthusiastic efforts into fostering young researchers.
Classifications within the Professional System at Furukawa Electric
Classification
Principal Researcher
Chief Researcher
Fellow
Senior Fellow
Treatment Standards
Section Managers
General Managers
Executive Advisors Corporate
Vice Presidents
Required Expertise
Has a high degree of systematic, expert knowledge and skills, and is able to formulate creative solutions to problems.
Is able to make use of a broad network outside the company and to take on leadership roles for issues that lack sufficient theoretical investigation.
Must have expertise that is second to none and suitable for international work, as well as playing a central role in professional societies and industries.
Required Experience and Achievements
Has earned high evaluations both within and outside the company, and has achieved distinctions such as patents and work that has been frequently cited, etc.
Forms creative and innovative ideas and frameworks, and contributes to maintaining the high standing of Furukawa Electric.
Suggests an innovative vision and direction for the mid-term and long-term future, as well as participating in operational decision making.
Profile
| | |
| --- | --- |
| 1985 | Began employment at an adhesive compound manufacturer where he could utilize his university specialization |
| 1994 | Spins out to become a university researcher who can devote himself to basic research |
| 1998 | Is invited to join Furukawa Electric where he has now been engaged in R&D as well as junior employee development for over 20 years. Works in roles such as as head of nanotechnology and the head of the Analysis Technology Center, etc. |
He values interpersonal communication and is especially skilled at "networking and communication over drinks." The network he built in this way has been very useful both professionally and privately.