High power and multi-port type. +16/+18/+20dBm.

brochure (PDF295 KB)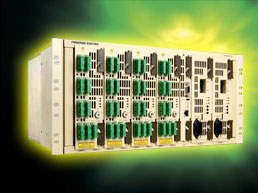 Item
Specifications
Wavelength
1550 to 1560nm
Optical Input Power
+10dBm[Typ.]
Optical Output Power
TypeA:+16dBm/port
TypeB:+18dBm/port
TypeC:+20dBm/port
Noise Figure
<6.0dB with OA-BASE [Optical Input Power at OA-BASE:0dBm]
IN/OUT/REF monitor [Front panel]
normal OFF
alert LED [RED] ON
TEMP/FAIL
normal OFF
alert LED [RED] ON
External Control Interface
SNMP/Web/Telnet
Power Supply/Power Consumption
AC100V±10% or DC48V
Dimensions
483[W] x 221.5[H] x 399[D]mm[Except for projection]

If Adobe Reader is not installed on your computer, use this link to download the software.
Adobe Reader is a trademark of Adobe Systems.