Optical amplifier for optical broadcast signals.

brochure (PDF260 KB)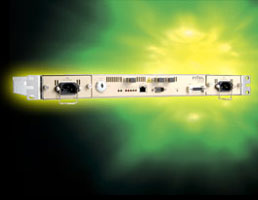 Item
Specifications
Input
Wavelength
1550 to 1560nm
Optical Input Power
0 to 10dBm
Input Optical Conecter
SC-APC[8°angle]
Output
Optical Fiber
1.31µm SMF SM10/125µm
Optical Conecter
SC-APC[8°angle]
Number of Optical Output Port
1
Optical Output Power
"FH-FA-2014A 13.0dBm,
FH-FA-2015A 16.5dBm,
FH-FA-2016A 19.0dBm,
FH-FA-2017A 22.0dBm"
Noise Figure
<5.0dB [@Pin=0dBm]
STM/Control
External Control Interface
SNMP/TELNET/WEB/SW
Alarm
Optical Input ALM, Optical Output ALM, LD Current, LD Temp ALM, POW ALM, FAN ALM, etc.
Status Monitor
Optical Input Power, Optical Output Power, LD TEMP, etc.
Control
Optical Output ON/OFF
LED
OPT IN ALM, FAN ALM, POW ALM ;
FAIL(LED OFF), NORM(LED ON)
PUMP LD, ACT ; OFF(LED OFF), ON(LED ON)
ON/OFF SW
CRITICAL/MAJOR/MINOR (TYPICAL)

If Adobe Reader is not installed on your computer, use this link to download the software.
Adobe Reader is a trademark of Adobe Systems.