December 27, 2011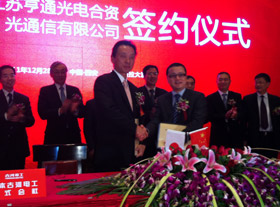 Signing Ceremony (December 28)
Furukawa Electric Co., Ltd. ("FEC") and Jiangsu Hengtong Photoelectric Stock Co., Ltd. ("Hengtong") have agreed that Hengtong will acquire from FEC a 49% stake of Furukawa Electric (Xi'an) Optical Communication Co., Ltd. ("FXOC"), a wholly owned subsidiary of FEC engaged in optical fiber cable manufacturing and sales and located in Xian City, China. FXOC will consequently become a joint venture. Accordingly, a stock transfer agreement and a joint venture agreement will be concluded at a ceremony scheduled for December 28.
Hengtong and OFS Fitel, LLC, a wholly owned US subsidiary of FEC, established an optical fiber preform manufacturing plant in Wujiang City, Jiangsu, China in November 2010. In addition to this venture, FEC operates an optical fiber cable business in Xi'an City through a joint venture with Hengtong, a major cable manufacturing company. With these initiatives, FEC seeks to strengthen the foundations of its optical fiber business in China, the world's largest market.
FEC will strengthen its market competitiveness and expand its operations in the growing optical fiber cable market in China, by combining Hengtong's extensive customer base and superior cost competitiveness with FEC's high value-added fiber cable technologies, which have a proven track record in the FTTH market in Japan and the West.
Profile of the Joint Venture
| | |
| --- | --- |
| Business name | : Furukawa Electric (Xi'an)Optical Communication Co., Ltd. |
| Head office | : Xian City, Shaanxi, China |
| Capital | : 227 million yuan (approximately 2.7 billion yen) |
| Ownership ratio | : FEC 49%, Jiangsu Hengtong Photoelectric Stock Co., Ltd. 49%, and Wujiang Lianyu Industrial Materials Company 2% |
| Business | : Manufacturing and sales of optical fiber cables |
| Establishment | : End of March 2012(planned) |
| Number of employees | : Approximately 250 |
| Net sales | : 130 million yuan (approximately 1,560 million yen, estimation for 2011) |