May xx, 2011
Furukawa Electric is pleased to announce the start of mass production of Japan's first single mode fiber lasers for processing such as welding and cutting. Two models are being produced, with outputs of 300W (Model number: ASF1J218) and 500W (Model number: ASF1J221) respectively.
These lasers are ideal for working with highly-reflective materials such as copper, titanium and ceramics, something not possible with conventional solid-state or gas lasers ("conventional lasers," hereafter).
In addition to expanding and upgrading its product lineup, Furukawa Electric aims to further boost sales by responding flexibly to the needs of its customers from the design to the development stages.
Also note that these and related products will be on display at PHOTONICS Laser World, to be held in Munich, Germany from May 23 to 26, 2011.
Background to Development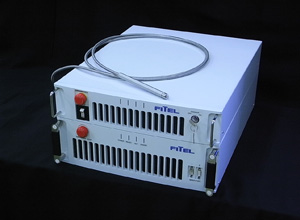 ASF1J218 300W Fiber Laser
(Upper : Power Supply Unit, Lower : Optical Unit)
The field of lasers for processing was once dominated by solid-state (YAG lasers, etc.) and gas lasers (CO2 lasers, etc.). In recent years, there has been an increasing demand for fiber lasers (see attached chart), given their benefits such as reduced power consumption, improved beam quality and ease of maintenance.
Furukawa Electric has developed a business as a pioneering producer of fiber lasers in Japan based on fiber, optical component and semiconductor laser technologies acquired in the optical telecommunications field, and through OFS, its U.S.-based subsidiary, which holds the basic patents related to optical fiber.
In May 2008, we developed a single mode fiber laser with an output exceeding 300W. In the time since, we have made progress with efforts to establish the technology, ensure reliability and drive down costs while continuing to evaluate multiple users and processing characteristics.
As a result, we have developed and commenced mass production of 300W and 500W single mode fiber lasers (Model numbers: ASF1J218 / ASF1J221) that achieve high focusing performance with a diffraction-limited single mode laser beam at a wavelength of 1084nm.
In addition to being superior to conventional lasers for cutting and welding, these products are ideal for processing with highly-reflective materials such as copper, titanium and ceramics, something not possible with conventional lasers.
Features
1. Energy Conservation
Uses half the power of conventional lasers and achieves electrical-to-optical conversion efficiency of over 25%.
Supports a broader range of operation and installation environments compared with conventional lasers and can be driven with even less power with the use of our high-performance heat sink.
2. High-Quality, High-Precision Processing
A focused beam diameter up to around 50% narrower than conventional lasers to produce a narrow kerf width.
Cutting speed twice as fast as a conventional laser.
3. Maintenance Free
Since the major components are fiber-based and there are no free space components, no maintenance of the optical system is necessary.
4. Added Flexibility for Various Installation Environments
Delivery fiber lengths up to 20 meters from the unit.
In addition, a two-unit configuration allows separation of the optical and power supply parts, flexible installation is enabled.
5. Extensive Range of Control Interfaces
As the products include external modulation input (analog and digital) and a PC control interface, they can accommodate the needs of a diverse range of customers.
Applications
Cutting and welding of steel and nonferrous metal sheets, surface treatment, fine processing
Cutting and boring of ceramic plates
Processing of highly-reflective materials
Specifications
| | |
| --- | --- |
| Item | Specification |
| Center Wavelength | 1084±5 nm |
| Optical Output Power (CW) | 300 to 500W (SMF) |
| Beam Quality (M2) | < 1.1 |
| Size (W × H × D) | 430×133×569 mm (Air cooled 300W main unit) |
Attached Chart: Changes in the Market for Lasers for processing
(Furukawa Electric Estimates)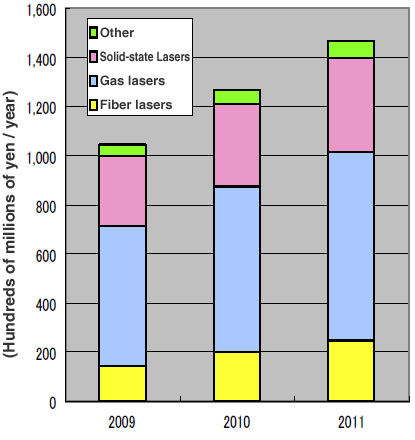 [Market Growth Rate (Annual Rate for 2009 - 2011)]
All lasers for processing Approx. 20%
Fiber lasers Approx. 35%
Main Content ends