June 5, 2012
Furukawa Electric will add the FITELnet F60 as its latest model in the IPsec-compliant(note 1) FITELnet F series of broadband routers, offering a gigabit Ethernet interface installed on all WAN and LAN Ethernet ports, along with outstanding cost performance. The product will go on sale July 2, 2012, followed by the FITELnet F60W with an integrated LAN access point(note 2), scheduled for shipment around the late September.
Product Description
The FITELnet F60 incorporates the full technology cultivated through the FITELnet F series, offering significant improvements in performance and functionality over the FITELnet-F80, but at a lower cost.
By connecting wireless data communication terminals compliant with 3.5G and LTE(note 3), it is able to accommodate wireless WAN connections and flexible backup structures, responding to the requirements of in-house networks.
The FITELnet F60W allows easy setup of a wireless LAN connection environment and is compliant with smartphones and tablet terminals without wired connection ports.
It is also compliant with L2TPv2 (note 4) over IPsec (function enhancement planned), enabling safe access to the in-house network from the outside.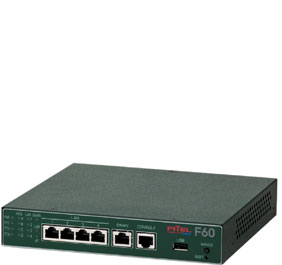 FITELnet F60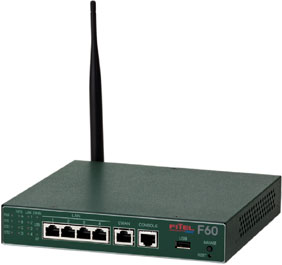 FITELnet F60W
(with integrated wireless LAN access point)
Standard Price and Sales Target
Standard price
(excluding tax):
FITELnet F60: 74,800 yen
FITELnet F60W: 99,800 yen (with integrated wireless LAN access point [factory option])
Targeted sales:
30,000 units per year
Features
Gigabit Ethernet interface installed on all Ethernet ports
A Gigabit Ethernet interface is installed on all Ethernet ports – one on the WAN side and four on the LAN side – realizing a maximum of over 250 Mbps of high throughput under IPsec transmission.
Wireless LAN access point can be integrated
It provides a wireless LAN environment for smartphones and tablet terminals, and is optimally suited for introducing wireless LAN in small offices and stores. Wireless LAN access points can easily be set up using the GUI.

Wireless transmission standard: IEEE802.11 b/g/n
Security methods: WEP (64/128), WPA-PSK, WPA2-PSK, WPA-EAP, WPA2-EAP
Other wireless methods: Multi SSID, privacy protection, MAC address filter, etc.

USB interface installed
Can be used as a WAN communication port by connecting a wireless data communication terminal compliant with 3.5G and LTE. In addition to enabling establishment of an Internet connection environment without waiting for wired lines to be installed, such as in temporary stores or exhibition halls and construction sites, it can be used as a backup line in the case of main line failure. By connecting USB memory it can also function as an external storage device, capable of storing firmware, configurations and log files, in addition to corresponding with automatic installation functions, enabling the stored firmware and configuration files to be read when the power is switched on.
Supported communication terminals of each carrier will be announced on the Furukawa Electric website.
Enhanced L2 tunneling function
IT supports both the Ethernet-over-IP and L2TPv3 functions (L2TPv3 function will be provided through future enhancement). It can be used to operate the LAN of remotely located bases under a single network address or to relay protocols other than IP (SNA, FNA, IPX, AppleTalk, etc.). By combining it with IPsec, L2 relaying can be securely achieved between the bases.
Use in NGN (Next-generation network)
IPv6 Internet connection using IPv6 PPPoE and IPv6 IPoE is available. Support will be provided (through future enhancement) for a function to more easily than ever realize the setup of a mesh-type VPN where multiple bases communicate directly with each other, using services such as FLET'S Hikari Next provided by NTT East and NTT West.
Energy- and space-saving, environmentally friendly
The design has sought to reduce power consumption of the CPU and security processor as well for unused ports (Ethernet, USB and console).
With adoption of a compact body allowing horizontal, vertical or wall-mount installation, the unit can be installed in various locations. Even though it is naturally cooled (without a fan), it is compliant with the maximum temperature for operating environmental condition of 50°C (excluding the model with integrated wireless LAN access point). All models are RoHS-order compliant.
System Configuration
A high-speed communication network can be set up and operated by installing the FITELnet F60 on the base side and FITELnet F200 or F2000 on the center side. Using the wireless data communication terminal as the backup line, it is possible to switch the main and backup lines and automatically conduct switch back connection using the event action function(note 5).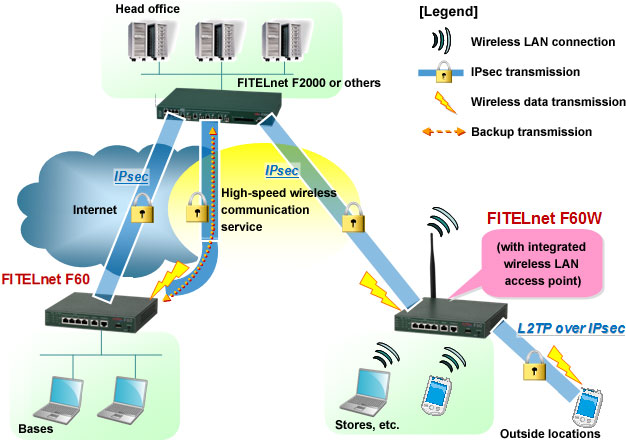 Supplementary Information
(Note 1)IPsec:
This is a method for realizing a virtual private network (VPN). It prevents falsification or eavesdropping of transport data over the transmission route by encrypting, tunneling and decrypting the transferred data (packet), enabling setup of a security-assured VPN. Back to Main Content
(Note 2)Wireless LAN access point:
In a LAN system using wireless communication to transmit and receive data, this is the parent machine with the function to connect wireless LAN terminals with wired LAN and between wireless LAN terminals. Back to Main Content
(Note 3)LTE (Long Term Evolution):
This is a high-speed communication standard for cellular phones. The theoretical maximum data transmission speed is 326 Mbps downstream and 86 Mbps upstream. Back to Main Content
(Note 4)L2TP (Layer 2 Tunneling Protocol):
This is a tunneling technology for realizing a VPN. Version 2 (L2TPv2) has been defined in RFC2661 and version 3 (L2TPv3) in RFC3931. Since L2TP lacks an encryption function, in many cases it is used in conjunction with IPsec. L2TPv2 over IPsec is now installed as a standard function for the protocol used for remote access in smartphones and tablet terminals. Back to Main Content
(Note 5) Event action function:
This is the maintenance and operation function supported in the FITELnet F series. It allows various actions (change of transmission routes, change of QoS policy, trap transmission, etc.) to be executed based on plurality of events (monitoring of transmission state over the route, status changes of interface, changes in equipment temperature state, etc.), realizing different operation policies foreseen by the network administrator, such as line backup functions, and contributing to the streamlining of maintenance and operation work. Back to Main Content
(Note)Names of goods, companies, etc. appearing herein are trademarks or registered trademarks of Furukawa Electric or other companies.
(Note)Information contained herein is current as of the day of its release. Please note that it could be changed without notice.