January 23, 2012
KYOWA ELECTRIC WIRE CO., LTD.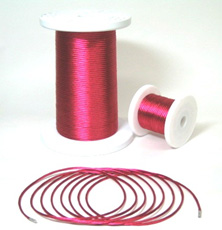 KANZACC~ALC-fine・Litz77
KYOWA ELECTRIC WIRE CO., LTD. (Head Office: Osaka-shi; President: Hisakazu Ishibashi), a member of the Furukawa Electric Group, has recently developed KANZACC ALC-fine Litz77 (patent application filed), a lightweight and easy-to-solder aluminum litz wire.
To produce Kyowa Electric Wire's KANZACC ALC-fine Litz77, a tin coating is applied to aluminum wire and then intertwined after further coating with an insulating film to produce litz wire. This makes it ideal for coils that require reduced weight. Further, since direct soldering is possible, additional processes to remove the insulating films or oxide films are not necessary. This represents a drastic speed-up of the connection process and greatly contributes to reduced coil production costs.
As litz wire is made up of thin wires coated with insulating film and intertwined together, compared with a single wire of the same cross-sectional area it can better control the increased alternating current resistance caused by the skin effect characteristic of high frequencies. While litz wire made from copper wire coated with insulating film has conventionally been used, weight concerns have prompted the need for lighter forms of litz wire to accommodate its principle use in mobile equipment.
Kyowa Electric Wire aims to begin sample shipments in February 2012, enter mass production at in the second half of fiscal 2012 and generate sales of 100 million yen in fiscal 2013.
Structure
An insulating film is applied to tin-coated aluminum wire, which is then intertwined to produce litz wire.
Features
Improves the issue of increased alternating current resistance due to the skin effect. As a result, it controls rising conductor temperatures, improves the efficiency of the equipment in which it is employed and helps reduce size and energy consumption.
Since good solderability can be achieved without the removal of insulating film, connection costs can be drastically reduced.
Applications
Electric vehicle coils, high-frequency devices, inverters, transmissions, motors, generators, heating equipment and more.