February 20, 2012
Furukawa Electric Industrial Cable Co., Ltd.
Furukawa Electric Industrial Cable Co., Ltd. (Head Office: Arakawa-ku, Tokyo; President: Yoshitaka Hattori, a wholly-owned subsidiary of Furukawa Electric; hereinafter "the Company") has developed and commenced the supply of electric wires for railway carriages that meet European standards, used for the internal wiring of railway carriages overseas.
Background of development
Amid heightened global interest in environmental issues in recent years, rail transport is receiving attention as an environmentally friendly transportation method owing to its low energy consumption and low CO2 emissions compared with other transportation methods, with overseas markets such as Asia vigorously improving their rail networks.
In Europe, where railway networks are particularly developed, European standards (EN standards) have been formulated by consolidating the standards for electric wires for railway carriages that until now have been implemented in individual countries. Basically, the standard has been matched to IEC standards in the electrical field and ISO standards in non-electrical fields, and it is believed that the scope of application of products that meet this standard will expand in the future.
The Company has a proven track record over the years in respect of electric wires for railway carriages that meet domestic standards, and using the technology cultivated during this time has developed and commenced the supply of electric wires for railway carriages that meet European standards.
Features of product developed
To ensure the safety of trains, electric wires for railway carriages require features such as heat resistance, oil resistance, flexibility, and high mechanical strength. European standards have additional requirements, such as high flame retardance, low smoke emission, low toxicity, and zero halogen. In the past, engineering plastic was often used for this purpose, but there were problems with flexibility and workability. The product we have developed uses a base material of general-purpose polyolefin resin to produce an electric wire that possesses all the required characteristics, namely a highly flame-retardant halogen-free electric wire that also has superior flexibility and workability.
Features
Superior flame retardance
Meets vertical flame spread of vertically-mounted bunched wires or cables test specified in EN50266-2-4 Cat.C (IEC60332-3-24)
High level of safety during burning
Passes low smoke emission test specified in EN50264.
Passes low toxicity test specified in BS6853.
Environmentally friendly materials
Employs materials that conform with RoHS directive to be free of halogen and hazardous substances.
Superior heat resistance, cold resistance
Can be used in a wide range of temperatures, from -40℃ to 105℃.
Flexibility
Soft electric wires make wiring easy.
Range includes lightweight type
The Company has developed a lightweight electric wire called T-NFL 1, which has half the thickness of electric wire insulation material, realizing a 20% reduction in weight and a 20% reduction in diameter (compared with the Company's normal electric wires). Despite the reduced thickness, the product has superior abrasion and cut-through features, and its reliability is assured.
Construction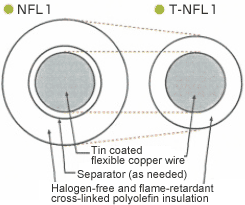 Supply record
Since late 2011, currently supplying to domestic users (approximate value 60 million yen)
Product inquiries
Furukawa Electric Industrial Cable Co., Ltd.
Address 6-48-10 Higashi-Nippori, Arakawa-ku, Tokyo 116-0014
TEL +81-3-3803-1151 FAX +81-3-3801-0581


http://www.feic.co.jp/english/
Main Content ends