September 5, 2012
KYOWA ELECTRIC WIRE CO., LTD.
KYOWA ELECTRIC WIRE CO., LTD.(Head Office: Osaka-shi; President: Hisakazu Ishibashi; hereafter "Kyowa Electric Wire")of the Furukawa Electric Group has developed KANZACC® ~ GAN: coat, a high-functionality plating film ideal for the surface treatment of connecting rod bearing retainers of motorcycle engines. KANZACC® ~ GAN: coat is a new type of plating film which does not produce sulfuration due to engine oil, and features a low friction coefficient and excellent abrasion resistance.
Kyowa Electric Wire has sought to further expand sales by entering new fields in addition to its specialty area of plating for electronic components, and will begin shipping samples in the latter half of fiscal 2012.
Features
Copper or silver plating with a comparatively lower friction coefficient than the surface is used to plate connecting rod bearing retainers in motorcycle engines.
However, this copper and silver plating faces the significant problem of sulfuration due to the sulfur components contained in engine oil. When the copper or silver plating of a retainer surface sulfates, the plating peels away or drops from the retainer, exposing the base material and producing scorching on the inner connecting wall.
Since no sulfuration due to engine oil occurs with KANZACC® ~ GAN: coat, the plating does not undergo peeling or falling off due to sulfuration as occurs with copper and silver plating, and there is no contamination of the engine oil.
In addition, compared with copper and silver plating, KANZACC® ~ GAN: coat boasts superior qualities in terms of (1)hardness; (2)low friction coefficient; and (3)resistance to abrasion, leading to long retainer life.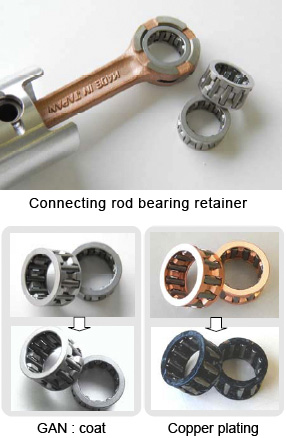 | | | | |
| --- | --- | --- | --- |
| | GAN: coat | Copper Plating | Silver Plating |
| Outer Appearance | No Sulfuration | Sulfuration | Sulfuration |
| Abrasion | No Abrasion | Abrasion | Abrasion |
Applications
Surface treatment of connecting rod bearing retainers for motorcycle engines, outboard engines and general purpose engines
Surface treatment of other sliding parts in engines