October 12, 2012
OKANO CABLE CO., LTD.
Okano Cable Co., Ltd. (Head Office: 5-28, Fukami-nishi 1-chome, Yamato-shi, Kanagawa; President: Yasuhiro Kamikura; hereafter "Okano Cable") of the Furukawa Electric Group is launching sales of a cable guide that supports cable mobility in October. The product has a structure that incorporates resin and is light in weight, low in noise, high in durability, and generates less dust. As such, it is ideal for use as a component of industrial robots, etc.
Sales in excess of around 100 million yen are targeted for fiscal 2015.
Background and description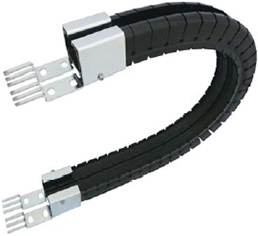 Cable guide
Components featuring an even lighter weight, lower noise, and less dust have been in demand to respond to needs for higher speed and use in clean rooms for industrial robots and facilities related to liquid crystal and semiconductors. Okano Cable has developed and commercialized a cable guide based on new concepts to meet these user needs.
The product has a structure that incorporates resin, made by extrusion as with cables. It is not only lower in terms of noise and dust generation, but is also light in weight and has excellent durability. This is because unlike conventional cable carriers, the product has no mechanism components whatsoever. There are three ranges (with guide widths between 30 and 75 mm) available in the product lineup to suit various cable sizes and numbers. Since it is made of flexible resin, it can cope with a wide range of curvature radii and is easy to install and handle.
Features
Light weight
The weight is about half of that of conventional products.
Low noise
The noise is less than 1/50 of that of conventional products.
High durability
Sliding (bending) tests have been conducted over 40 million times to confirm that there are no issues.
Less dust generation
Almost no dust is generated because the product is integrally formed and has no mechanism components.
Wide range of curvatures
Being made of flexible resin, the product is able to cope with a wide range of curvature radii
(between 80 and 150 mm; development work is underway for 40 mm).
Okano Cable will be a one-stop source of new products, including mobile cables to be housed inside this product and other items that respond to the needs of its customers.