November 6, 2012
KYOWA ELECTRIC WIRE CO., LTD.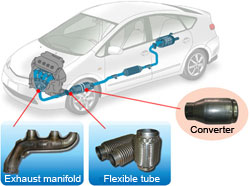 Corrugated cables (also known as corrugated steel-pipe armored cables) marketed by Kyowa Electric Wire Co., Ltd. (head office: Osaka-shi; president: Hisakazu Ishibashi; hereinafter "the Company"), which is part of the Furukawa Electric Group, are selling well. This is attributable to an increase in demand for corrugated cables for use in mega solar power plants and oceanic wind power generation. The Company is reacting to the rise in demand by commencing full-scale production while increasing the yield to the maximum level possible.
Having set up a dedicated plant 40 years ago, the Company has significantly increased its domestic share of corrugated cables to 70% while skillfully meeting strict deadlines and making the products smaller in diameter. Meanwhile, the Company utilizes its super-thin-walled welding technology, which is essential for making corrugated metallic pipes, in manufacturing new products for vehicles, home electronics and many other non-cable applications. In terms of vehicles, the cumulative quantity of the Company's shipment of exhaust gas pipes that are required to meet strict welding quality standards has exceeded 10,000 tons, or 30,000 kilometers.
The Company leverages its industry-leading reliability and productivity in pursuit of continuous growth.
Structure of a corrugated cable

The internal cable is covered with a corrugated metallic pipe made of steel, etc., which is then covered with anti-corrosion resin.

Characteristics of corrugated cables
Since they are completely airtight and watertight, corrugated cables can be buried directly underground or under water.
Corrugated cables have excellent mechanical strength with substantial compressive strength and internal pressure strength.
Corrugated cables are light in weight and easy to bend and install.
As they are metallically armored, the internal cables can be effectively shielded.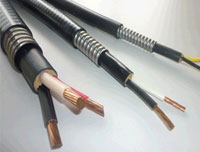 Appearance of corrugated cables
Corrugated cable manufacturing line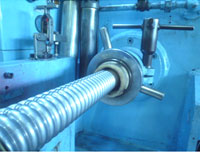 Corrugated cable manufacturing line
The Company's corrugated cable manufacturing line is adaptable to steel, stainless steel, copper and aluminum. Ranked at the highest level worldwide in terms of head rotation (6,000 rpm) and linear velocity (30 m/min), the line has outstanding productivity.
Corrugated metallic pipe
Material: steel, stainless steel (austenite and ferrite), copper and aluminum
Thickness: 0.3 - 0.6 millimeters
External diameter: 13.5 - 53.0 millimeters