Electronic Appliance Wire / Automobile Wire
Global Marketing Sales Division TEL : +81-3-3286-3143
Download the full catalogue from the link directly below. Catalogues for individual product categories can be downloaded from the link underneath the individual product explanation.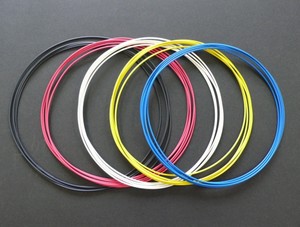 Hook-up Wire
Our BEAMEX range includes wires that are compliant with various standards such as UL and CSA standards and the Electrical Appliance and Material Safety Law (PSE, maximum temperatures, F mark), as well as environmentally friendly, halogen-free wires that contain no PVC, plasticizers, antimony and the like.
BEAMEX-ER470 (125°C heat-resistant) and BEAMEX ER500 (150°C heat-resistant), which are thin, heat-resistant wires, have been used for many years in automobile applications.

<Typical products>
UL AWM Style No. 10368, 3855, 3302, 3384, 3385, 3386, 10369, 3619, 3265, 3266, 3271, 3398, 3289, 4410, 4411, 4412, 4413, 1685, 1571, 3443, 1430, 1431 etc
BEAMEX-ER470, BEAMEX-ER500 ECOBEAMEX,ECOACEPLUS,ECOACE,EM-KIX (UV) etc

Our highly flexible SOFLEX wires do not appear in the product catalogues, so please inquire separately.
Shielded Wire
We offer halogen-free shielded wires and a range of shielded wires that have been given improved soldering resistance through cross-linking with insulation materials.

<Typical products>
UL AWM 3713 SHIELDED WIRE, XEWV, XEBV
Cable for Electric Appliance
We also offer halogen-free cables and a selection of cables that comply with UL standards.

<Typical products>
UL AWM 21101, 20850, 2789 CABLE
Automobile Wire
We offer JASO-compliant wires with heat resistance of 100 - 120ºC. Our AESSX ECOBEAMEX-120 α wires are halogen-free and environmentally friendly, containing no halogen-based flame retardants, plasticizers, antimony, or other hazardous substances.
We also manufacture, under individual specifications, automobile cables capable of resisting temperatures of at least 120°C. Our proprietary material technologies enable us to offer products with superior cost, quality and delivery.

< Typical products >
AVX, AVSSX, AEX, AESSX, ECOBEAMEX-120α, HEAT-RESISTANT CABLE
Cable for Robot
These are cables for robot control devices. Our range includes low-cost solutions for fixed wiring, and bend-resistant cables made with ultra-flexible conductors.

< Typical products >
ROEV, ROVV
Heat Resistant Tube
We have a range of tubes with heat resistance of 125ºC and 150ºC, and UL224-compliant 125ºC heat-resistant tubes.

< Typical products >
BEAMEX-ER470 TUBE, BEAMEX-ER500 TUBE
UL224 300V/600V BEAMEX-ER470 TUBE
Inquiry
Global Marketing Sales Division
TEL : +81-3-3286-3143
Technical support
Optical Fiber & Cable Products Division Electronic Appliance Wire Department