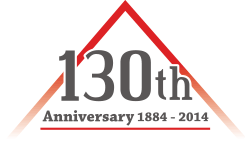 130 Years - And We Have Still Much To Do
In 2014, Furukawa Electric celebrates its 130th Anniversary.
Our success is thanks to the ongoing patronage and support of our customers and shareholders, and we would like to take this opportunity to express our heartfelt appreciation.
In 1884, the company began smelting copper in Honjo, Tokyo and manufacturing electric cables in Takashima-cho, Yokohama. In that same year Japan's first ever light-bulb was lit. It was truly the dawn of the age of electricity.
Furukawa Group's founder, Ichibei Furukawa, was very friendly with Eiichi Shibusawa, known as the father of Japanese industry. They are said to have worked together to build Japan with the shared aim of "making Japan brighter".
We have inherited this mission from them and we will continue seeking to "make the world brighter" as a unique player with diverse material technologies in fields such as infrastructure and motor vehicles.
We have still much to do aiming for realizing it.
It's already been 130 years, but we are only just setting out on our journey.