Available in 5 sizes, with a range of innovative accessories, EFLEX Square is an incredibly versatile system which enables simple and fast installation of buried cable routes.
Movie
The stackable units are supplied in 5.3m lengths with built-in male and female push-fit watertight connectors.
Aqua Square (Joint)
Used to connect cut ends of EFLEX Square, when adjusting length.
Non-woven expanding material for a moistureactivated watertight seal
Single action locking clips for a quick and secure connection
No tools required
Size
Series

A: Outer Diameter (mm)

B: Inner Diameter (mm)
Total Length (mm)
Effective Length (mm)
50
73
50
5,300
5,250
75
99.5
75
100
125
100
130
162
130
150
184
150
Advantages of EFLEX Square
Compact Stacking
A stable stack can be created.
Entire stack is backfilled at once.
Space saving.
Amount of digging can be reduced due to stacking compactly.
It doesn't need bend units due to its flexible.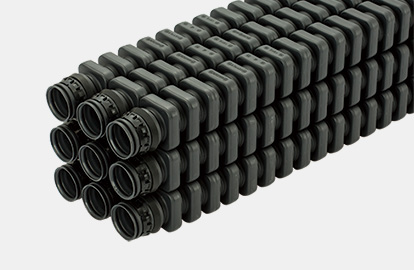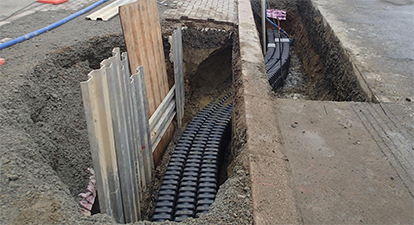 Easy to use
Flexible
5.3m length allow for reduced processing.
Single-action connection.
Internal smoothness (easy cable installation)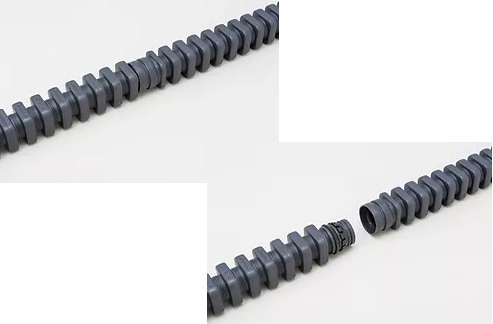 Strong and Resistant
High compression strength (Appendix 3,JIS C 3653)
High fire-resistant(Appendix 3,JIS C 3653)
Connector part is applied to IP67(IEC-60529)
Applicable parts
Huge range of innovative accessories to enable fast installation and interface with other duct types.
Can be connected to EFLEX Coil and EFLEX Straight.
Basically, part of connection is all watertight.
"Aqua Series" have watertight connection with a moisture-activated expanding fabic lining. Without some tapes and putty, it's very easy to install.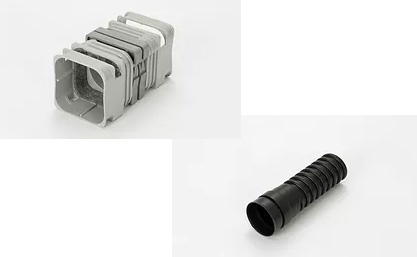 Aqua Series

Aqua Square

Creates a watertight connection between two cut pieces of EFLEX Square.

It is possible to change length of EFLEX Square again and again till inserting locking clips.

It is applied to IP67(IEC-60529)

Aqua Series

Aqua Square male adaptor

To connect a cut end of EFLEX Square to a female connector

Male to male adaptor

Used to connect two EFLEX Square female connectors.

Because extra pieces can be used efficiently, it is economical to reduce loss of conduits.

Converter to EFLEX Coil

Allows connection to a wide range of accessories including the AQUA Connector

Long Bell Mouth

For connecting to chambers. Available in 3 lengths. Built-in female connectors.

Bell Block

For connecting to chambers. Available in 1, 2, 3, 4, 5, 6 and 9-way profiles. Built-in female connectors
Installation
Can be connected to EFLEX.

Can be installed in areas with limited space.

Due to the 5.3m length it is possible to install in areas with many obstructions.

Neatly Manage cable routes in small spaces.

Can be installed with limited space next to roads.

EFLEX Square is supplied in straight units.
Product Catalogs
Please download product catalogs from here.
Click here for inquiries.