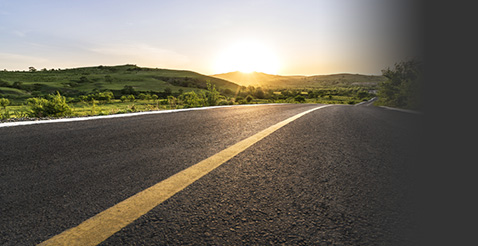 Based on our extensive experience and know-how, we will continue to contribute to the construction of a global road network and the realization of the most efficient infrastructure possible.
Furukawa Electric's products are characterized by their high-quality, high-performance, and environmentally friendly characteristics. They can be used on all road maintenance projects, including traffic lights and road communications.
Installation
Installation Details
Construction utilizing load bearing capacity

Because of its load-bearing capacity, EFLEX can be installed on roads, sidewalks, and other areas where heavy loads may be present.
In addition, when EFLEX Square is used, it can be buried with a reduced amount of excavation, as shown in this photo.

Installation utilizing flexibility

EFLEX is very flexible and can be bent by hand to facilitate piping work.

Green Trough can be used for highway/road cable routes.
Delivery Results
Our solutions in this market
Simple and fast construction is possible, resulting in less disruption to road networks and their users.
Due to the load bearing capacity, there is no problem even with heavy loads such as cars and large vehicles. (25 tons when buried at 300mm) (EFLEX & Straight)
Our duct products can be installed along a wall. (EFLEX & Straight)
Usable Products
Click here for inquiries.