Outline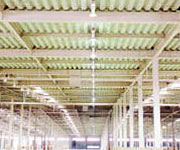 The heat insulator series for a metallic roof of Furukawa Electric Co., Ltd. has an excellent feature as dewy-condensation prevention heat insulator of a steel roof. As for the dewy-condensation, when the difference between an outside temperature and the indoor temperature is great, the dewy-condensation is caused in the room of a steel roof.
To prevent it, the foam insulation is put directly on the indoor side of a steel roof.
High flame retardant foam insulation FUNEN ACE suits law of building with fire protection system in Japan,FOAM ACE SR is a flame retardant foam insulation,and PE foam insulator is FOAM ACE.
It is possible to choose according to the usage.
Related information: "Sick-house Regulations"
Related product: PITATTO ECO