Outline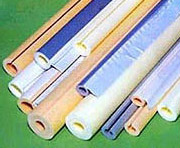 Furukawa pipe cover is heat insulatior of polyethylene foam for the piping.
It excels in insulation, chemical resistance, and durability, and the lineup does the product with heatproof of 120°C(jurisdiction temperature) as a heat insulation tube for supplying hot water.
It is used for heat and the cold insulator of the air-conditioning piping, the water supply, the tube of supplying hot water, the heat-pump water heater, and the frozen refrigeration showcase.