We are supporting front line of semiconductor industry with Advanced Tape and Advanced Film Technology.
Line up
These tapes are designed for surface protection of semiconductor wafers during backgrinding process.

These tapes are designed for holding semiconductor wafer or package during dicing process.

Die Attach Film is adhesive film which is used for semiconductor process.

It is combined with dicing tape, and it is called as Dicing Die Attach Film.
Structure of Tape for Semiconductor Process
Tape have a two-ply construction of backing film and adhesive layer. And the surface of the adhesive layer is covered with a release film.
Mainly, backing film is made of Polyolefin. However that, other material is used for backing film depending on the situation. About adhesive, it is made of Acrylic. And Release film is made by PET.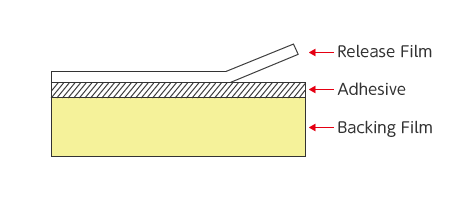 Propose
Tape for Backgrinding
Tape for Dicing
Wafer Dicing
Package Dicing
Tape
SP Series
CP Series
UC Series
FC Series
Features
UV Type
Non-UV Type
UV Type
UV Type
Release Film
PET

PET

Polypropylene

PET
PET
Adhesive
Acrylic
Acrylic
Acrylic
Acrylic
Backing Film
Polyolefin
Polyolefin
Polyolefin
Polyolefin
Click here for inquiries.