Furukawa Establishes Production Line for Optical Fiber Composite Overhead Ground Wire (OPGW) in Brazil

- Participating in the Latin American OPGW Market Where Rapid Growth is Expected -
Furukawa Industrial S.A. Produtos Eletricos (head office: Curitiba, Paran?, Brazil; hereinafter "FISA")(note 1), a wholly owned subsidiary of Furukawa Electric Co., Ltd., has established a production line for optical fiber composite overhead ground wire (OPGW)(note 2), and held an opening ceremony at the site on March 5.
FISA will attempt further business expansion by participating in the Latin American OPGW market, where significant growth is expected.
Opening Ceremony
FISA President Foad Shaikhzadeh stated: "The purpose is especially to envisage applications in metropolitan and long distance networks, but we are ready for all business needs and demands of governmental agencies for contributing to the development of Brazil."
Also present at the ceremony was Minister of Communications Paulo Bernardo. In Brazil, a government permit is necessary for operating airports, roads, railways and ports, so the minister's presence indicated the importance of the new business.
Shaikhzadeh said: "The solutions our company offers dramatically improve mutual connectivity among cities of Brazil, and contribute toward the advancement of a nationwide telecommunication platform."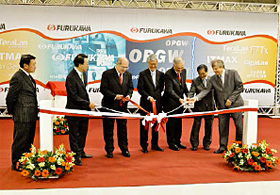 Supplementary Information
(note 1)Since its establishment in 1974, FISA has manufactured and sold optical fiber cables and LAN-related products mainly in the Latin American region. Business establishments are currently being built in Argentina as well, in an effort to expand business.
(note 2)OPGW stands for optical fiber composite overhead ground wire, and refers to a multifunctional wire made from an overhead ground wire, which is put in place to protect overhead transmission lines from lightning and which is equipped with optical fiber telecommunication functions. In Latin America, demands for OPGW are expected to grow in line with the increase in demand for electricity and as a part of efforts to improve power transmission facilities.