On Holding an Opening Ceremony for our Optical Fiber Cable Manufacturing Company in Columbia

- Contributing to the construction of communications infrastructure in the Andes/Central American Region -
Furukawa Industrial S.A. Produtos Electricos (Paraná State, Brazil; President: Foad Shaikhzadeh; hereinafter, FISA) held an opening ceremony on the occasion of establishing a new optical fiber cable manufacturing plant in the Republic of Colombia.
Background
The GDP of Columbia is now third largest, behind Brazil and Mexico, among Latin American countries, and in recent years, Columbia is rapidly expanding the scale of its economy. Government initiatives are planned toward developing communications infrastructure markets in Columbia, and stable demand is expected going forward as well.
Content
In order to strengthen business activities in the Andes/Central American Region, FISA established optical fiber cable manufacturing plant in Palmira, Valle del Cauca Department, Republic of Colombia, and on this occasion, held an opening ceremony on Tuesday, August 5, 2014 (Colombia time).
Opening ceremony attendees included: the current Japanese Ambassador to Colombia; Diego Molano, Minister of Information Technologies and Communications; María Claudia, Deputy Minister of Foreign Trade; the Governor of Valle del Cauca Department; and Colombian government officials.
Masao Yoshida, Furukawa Electric Chairman announced, "It is a great honor that we can hold this optical fiber cable plant opening ceremony today. We are confident that we can continue to contribute to further social and economic development in Colombia by providing top quality products and the finest service."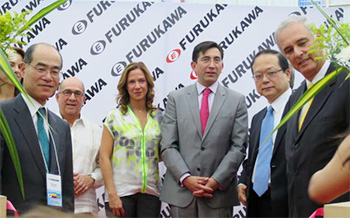 Foad, executive Officer of Furukawa Electric and FISA President added that, "The reason for establishing the new plant in Palmira is its geographically advantageous location for a distribution network in Colombia, facing the Atlantic and Pacific Oceans. All of the other FISA plants are located on the Atlantic Ocean side, so we enhance our strategic business development on the Pacific Oceans by establishing the new plant in Palmira."
New Company Overview
| | |
| --- | --- |
| Name of company | Furukawa Industrial Colombia SAS |
| Type of business | Manufacturing and sale of optical fiber cable, LAN, and FTTx products and solutions |
| Number of employees | 25 employees, as of the company launch |
About Furukawa(FISA)
A manufacturer that produces structured cabling solutions and optical networks; Furukawa (FISA) is a national leader in cabling across the Mercosul region and is developing an increasing presence in Latin America. A Japanese company that has been in the Brazilian market for 37 years with its head office and plant in Curitiba, Paraná, as well as factories in São Paulo and Argentina.