Launching the F2200 FITELnet IPsec Router with Best-in-Class Performance

- Enhancing the lineup featuring products with excellent cost performance -
Furukawa Electric Co., Ltd. is launching the FITELnet F2200, which features more than twice the IPsec (note 1) performance and bases accommodated as compared with conventional products. It is the ideal equipment as a large-scale center device, or as a data center or gateway router (note 2) where traffic is concentrated. The router boasts significantly enhanced performance while remaining at the same price as conventional products.
Background
In recent years, with the increased use of cloud computing services and the spread of communications tools such as videoconferencing, conference calls, and the like, as well as the expansion of inexpensive broadband access lines and service, the amount of communications traffic within companies is expected to increase further going forward.

In addition, the corporate network is undergoing a major transformation in recent years, with the rise of the conflicting needs for both distribution and concentration of communications traffic, as traffic for P2P communications (note 3) is distributed in a valid application infrastructure environment, concentration proceeds to center devices through data centers and use of the cloud, and the like.
Contents
Furukawa Electric is launching the FITELnet 2200 at the end of November 2014 as a large-scale center device that is the successor to the popular FITELnet F2000 IPsec router, featuring more than twice the IPsec performance and number of bases accommodated.
Because the FITELnet F2200 is used as a Multi-Point Security Association (MPSA) controller, it implements an distributed communications environment without a large-scale center device. And by further significantly enhancing IPsec performance and expanding the number of bases accommodated, it can also be used as large-scale center device that is stable and has excellent accommodation efficiency.

Further, with its significantly enhanced IPsec performance and expanded number of bases accommodated, the FITELnet F2200 is also the perfect device for use as a data center where communications traffic is concentrated and as a gateway router for cloud services.
Going forward, Furukawa Electric will continue to support its corporate network, leveraging the strengths of equipment manufacturers producing entirely in Japan—from design to manufacturing—and a support system together with development engineers.
Standard Price and Unit Sales Target
| | |
| --- | --- |
| Standard Price (excluding tax) | 498,000 yen (planned) |
| Unit Sales Target | 30 thousand per year (note) Entire FITELnet –F series |
(note 1)IPsec:
A method of establishing a Virtual Private Network (VPN) with security ensured to prevent interception and tampering with data along the route, using encrypted data transfer, tunneling, and decryption.
(note 2)Gateway Router:
A device used to connect with different networks.
(note 3)P2P Communications:
A method for transmitting and receiving data between terminals with an equal relationship that are directly connected with each other on a network. It is characteristically unlikely for concentrated access to a particular terminal to occur, even when the number of terminals on the network becomes large.
Key Features
Best-in-Class IPsec Performance
Achieves a maximum 2Gbps of IPsec throughput in a 1U size 19-inch rack. In addition to its use as large-scale center device capable of building networks that are stable and have excellent accommodation efficiency—as it supports equipment redundancy through VRRP that accommodates up to 2,000 bases—it is also ideal as a data center concentrating traffic or as a gateway router in the cloud.
High-Scale Support for L2 Tunneling Function
Supports EtherIP function as well as L2TPv3 functions and accommodates up to 2,000 bases. It also supports return L2 communications in the device using the Bridge function, as well as QoS function equivalent to times of L3 relay during cases such as priority control and bandwidth control during L2 relay.
Supports a variety of interfaces
Equipped with Gigabit Ethernet interfaces through Ethernet ports for all of the 2 WAN ports and 8 LAN ports. You can select the optical interface (SFP option) for the WAN ports. In addition, the device is equipped with 2 USB interface ports, which support equipment configuration, firmware, and external memory for log storage, as well as USB data transmission terminals.
Equipped with Multi-Point Security Association (MPSA) Function
Supports the MPSA functions proposed to the Internet Engineering Task Force (IETF) standards organization. The MPSA resolves the issues of settings complexity, scalability, and delays in large-scale IPsec networks, with an entirely new IPsec extension system that incorporates the concept of Software Defined Networking (SDN), and the MPSA Controller controls all of the information needed for communication between bases.
Standard technologies such as IKEv2 and BGP are adopted in the C-Plane, while full-mesh IPsec communications using single MPSA are possible in D-Plane. In adding to the base side, there is no need at all to change settings when deleting on the existing base side, and it is possible to establish a path for communications between the bases that is automatically encrypted. The F2200 can accommodate up to 500 bases as the MPSA Controller.
Future company VPN using MPSA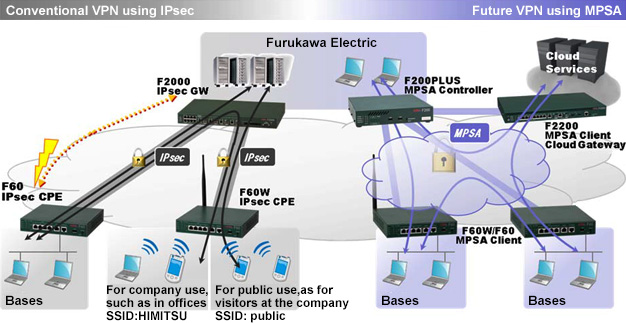 About Furukawa Electric Group
Furukawa Electric (TSE; 5801, ISIN; JP3827200001) Group started business in 1884, when its copper-smelting facility and wire manufacturing factory was established. Since then Furukawa Electric has become pioneers in the latest technologies by addressing diverse technological issues. Furukawa Electric has released products in a number of areas, including telecommunications, electronics, automobiles, and construction, with the three types of materials it works with at their core, namely, optics, plastics, and metals. Many of these products have attained the top global market share, and all of its products have contributed to society in numerous business areas. Furukawa Electric reported consolidated revenues of JPY 931.8 billion (approximately USD 9.3B) for the fiscal year ended March 31, 2014.