Commercialization of siloxane-free, high-performance heat conductive sheet (F-CO TM sheet V30)

- Realizes the highest level of electrical insulation and heat resistance in the industry -
Furukawa Electric Power Systems Co., Ltd. (Head Office: Yokohama-shi, Kanagawa Prefecture; Managing Director: Michio Okuno; hereinafter referred to as "our company") of the Furukawa Electric Group has commercialized a high-insulation, elastic, siloxane-free1(note 1), high-performance heat conductive sheet (F-CO TM sheet V30).
TM sheet V30 realizes the highest level of electrical insulation and heat resistance in the industry among non-silicone-type products and is characterized by its softness and high elasticity.
Background
A heat conductive sheet is a material that closely connects a heat source, such as a CPU or board relay, with a cooler, such as a heat sink, and conducts heat effectively away; it is essential to electronic parts whose performance has been improving.
An acrylic sheet is a conventional and representative siloxane-free sheet, but it has low insulation, it is hard and has poor elasticity, and it has a heat resistance of 100ºC or below. When a sheet is used in conditions of high heat of 100ºC or above, a silicone sheet has to be used; however, there have been concerns about issues such as poor contact due to the production of siloxane.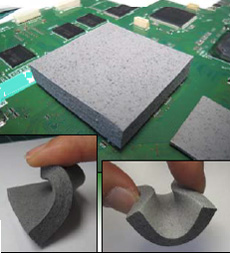 Product developed
Our company has made use of the polymer blend processing technology it has built up over many years in wire manufacturing, and developed a high-performance heat conductive sheet that functions well under a hot environment of 120ºC. It is siloxane-free, has high insulation and heat resistance, it is soft and has high elasticity, and it is easy to process.
Properties
| | |
| --- | --- |
| Thickness | 1mm to 8mm |
| Heat conductivity | 1.7W/mk |
| Hardness (Asker C) | 30 |
| Volume resistivity | 1.0×1014Ω-cm |
| Breakdown voltage | 10KV/mm |
| Incombustibility | UL94V-O |
Contact
Furukawa Electric Power Systems Co., Ltd.
Sales & Marketing Division, 3rd Sales Section: Kazuhiro Suzuki
TEL: 045-910-2813
(note 1)Siloxane-free: Does not contain low-molecular weight siloxane, which causes problems such as a poor contact.