Delivering a speech on the Japan-Brazil Business Forum

- Participating in the Central and South American Tour of Japanese Government Leaders -
Furukawa Electric Co., Ltd. joined in the Central and South American Economic Mission held in the Central and South America Tour of Prime Minister Abe, and delivered a speech as one of the companies that has contributed to the Brazilian economy.
Background
Furukawa Electric founded Furukawa Industrial S.A. Produtos Electricos in 1974 (Parana State, Brazil; President: Foad Shaikhzadeh), and has subsequently contributed for many years to the communications infrastructure needs of Central and South American countries, including expanded bases in Argentina, Columbia, and Mexico.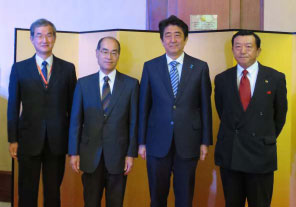 Content
Masao Yoshida, Chairman of Furukawa Electric, participated in the Central and South American Economic Mission held in the Central and South America Tour of Japanese Government Leaders and delivered a speech -as one of the companies contributing to the Brazilian economy for many years- -on the Japan-Brazil Business Forum- sponsored by the Japan External Trade Organization (JETRO), Nikkei Inc., and Valor Economico. On the day of the speech, there was an active informational exchange on the outlook and expectations for business in both Brazil and Japan, in addition to the commemorative speech by Prime Minister Abe.
During his speech, Mr. Yoshida expressed that, "The importance of electric and communications infrastructure increases along with the economic growth of Brazil. Going forward, we at Furukawa Electric will continue to solve problems and contribute to economic growth in Brazil based on the variety of technologies that we have cultivated up to now."
About Furukawa Electric Group
Furukawa Electric (TSE; 5801, ISIN; JP3827200001) Group started business in 1884, when its copper-smelting facility and wire manufacturing factory was established. Since then Furukawa Electric has become pioneers in the latest technologies by addressing diverse technological issues. Furukawa Electric has released products in a number of areas, including telecommunications, electronics, automobiles, and construction, with the three types of materials it works with at their core, namely, optics, plastics, and metals. Many of these products have attained the top global market share, and all of its products have contributed to society in numerous business areas. Furukawa Electric reported consolidated revenues of JPY 931.8 billion (approximately USD 9.3B) for the fiscal year ended March 31, 2014.