Sales launch of the HYC series lightweight, compact heat dissipation products for LED lighting

- Optimal for high power LED heat dissipation -
Furukawa Electric Co., Ltd. is launching sales of the new HYC Series heat dissipation products for LED lighting equipment. By achieving lightweight and compact form, the HYC Series reduces the constraints on the seismic design of LED lighting, and in turn it reduces the burden of installation work and the like
Background
LED lighting uses light-emitting diodes (LED), featuring low power consumption and long service life, and is spreading rapidly. But while the light emitted from the LED light source does not emit heat, however, some 80% of the power drawn is converted to heat generated from the LED element–particularly in LED lighting with a high output in excess of 100W–and heat dissipation measures are essential.
Currently, cast aluminum products and heat dissipation parts comprising lumps of metal including extruded products are commonly used for heat dissipation in LED lighting, but as heat dissipation parts get larger and heavier in keeping with the higher output of LED lighting, problems with LED lighting equipment that is hard to handle as well as constraints on seismic designs are occurring.
Content
This year Furukawa Electric is fully launching sales of the HYC Series lightweight and compact heat dissipation products designed for LED lighting equipment.
The HYC Series draws on the heat dissipation/cooling technologies and expertise in electronics products that Furukawa Electric has developed over many years, and with this heat dissipation performance, in addition, HYC Series has been achieved less than half the weight as compared to conventional cast iron and extruded heat dissipation parts. This is ideal for cooling the high power LED modules that are mainly used in high ceiling lighting for warehouses, factories, and gymnasiums, as well as outdoor floodlights and the like.
"It is a pleasure to be able to release the HYC Series. The brand name HYC is an abbreviation of Human = H, Yasashii [gentle] = Y, and Cooler = C and the aim is to contribute to improving the design and installation work for LED lighting equipment by achieving lightweight and compact form in the heat dissipation parts." says Ryoji Ono, Corporate Vice President of The Thermal Management Solution & Products Div. "We will continuously work to provide heat-sink devices which can contribute to people and society"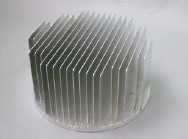 Product lineup
To start with, Furukawa Electric is launching sales of two types: the HYC 130c (weighing 0.78 kg) 100 – 130 W crimp fin type heat sink, and the 200 W class HYC 200 (weighing 1.2kg) heat pipe heat sink. We are planning to add to the lineup going forward in keeping with the further increase of high power LED modules.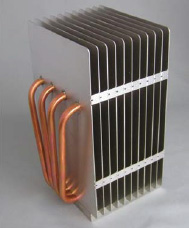 About Furukawa Electric Group
Furukawa Electric (TSE; 5801, ISIN; JP3827200001) Group started business in 1884, when its copper-smelting facility and wire manufacturing factory was established. Since then Furukawa Electric has become pioneers in the latest technologies by addressing diverse technological issues. Furukawa Electric has released products in a number of areas, including telecommunications, electronics, automobiles, and construction, with the three types of materials it works with at their core, namely, optics, plastics, and metals. Many of these products have attained the top global market share, and all of its products have contributed to society in numerous business areas. Furukawa Electric reported consolidated revenues of JPY 931.8 billion (approximately USD 9.3B) for the fiscal year ended March 31, 2014.