KANZACC Develops Special Plating; to Make Full Scale Entry into the Automobile Market

- The company has completed Development of silver-based special plating with drastically improved abrasion resistance -
KANZACC CO., LTD. (main office: Osaka, President: Hisakazu Ishibashi), a member company of the Furukawa Electric Group, has completed developing silver-based special plating with improved anti-abrasion performance, and plans to launch the technology in the automobile market. KANZACC plans to utilize the superior features of its range of plating products to increase its plating business sales ratio in the automobile market to at least 50% by FY 2018.
Background
Recent improvements in automobile performance have increased the number of electrical components used, and with that the number of connector terminals for automobiles has also grown. Normally, the surfaces of connector terminals are treated to prevent oxidation through such means as plating copper alloys with silver or tin. However, increased insertion/extraction and sliding movements in parts has made it difficult to improve the anti-abrasion performance of plated surfaces.
Content
KANZACC has successfully developed and is now mass producing "silver-based special plating," which takes advantage of the low contact resistance of silver and drastically improves abrasion resistance. This plating will significantly improve anti-abrasion performance for parts with increased insertion/extraction and sliding movements, such as for use with switch contacts in connectors for automobiles. The reduced membrane thickness will also help to reduce materials costs.
Additionally, based on the leading-edge technologies the company has developed in the electronic components sector, KANZACC will officially launch its specialty plating products (such as "No Discoloration Silver Plating(Note 1)" and "Partial Reflow Tin Plating(Note 2)") in the automobile market. By doing so, the company plans to increase its sales ratio for products in this market to 30% by FY 2015 and at least 50% by FY 2018, and to reach 500 million yen in sales in the same market by FY 2018.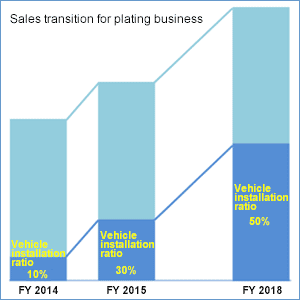 Features
Silver plating with superior abrasion resistance for parts with increased sliding movements such as switch contacts.
Silver plating thickness is reduced 50% due to the anti-abrasion effect, reducing materials costs.
Capable of preventing short circuits caused by whiskering, increasing connector reliability.
About KANZACC CO., LTD.
| | |
| --- | --- |
| Established: | January 1920 |
| Capital: | 720,755,000 yen |
| President: | Hisakazu Ishibashi |
| Head office: | Dojimahama 2-1-9, Kita-ku, Osaka |
| Main products: | Electric wires/cables, plated processed goods, metallic pipes/corrugate |
| Ratio of stock held by Furukawa Electric: | 99.9% (as of March 2015) |
(note 1)No Discoloration Silver Plating:
This product is perfect for use as a membrane on contacts for switches, as it is not discolored by sulfuration, and it combines the conductivity, heat resistance, and corrosion resistance of silver.
(note 2)Partial Reflow Tin Plating:
This reflow tin plating developed by KANZACC is the first in the world where exposed copper does not discolor. This technology is able to mitigate whiskering (a concern for tin plating that has not been reflow processed), and is used in many electronic components that require high reliability.
About Furukawa Electric Group
Furukawa Electric (TSE; 5801, ISIN; JP3827200001) Group started business in 1884, when its copper-smelting facility and wire manufacturing factory was established. Since then Furukawa Electric has become pioneers in the latest technologies by addressing diverse technological issues. Furukawa Electric has released products in a number of areas, including telecommunications, electronics, automobiles, and construction, with the three types of materials it works with at their core, namely, optics, plastics, and metals. Many of these products have attained the top global market share, and all of its products have contributed to society in numerous business areas. Furukawa Electric reported consolidated revenues of JPY 931.8 billion (approximately USD 9.3B) for the fiscal year ended March 31, 2014.