Participation in Planning the Development of Next-generation Offshore DC Power Transmission Systems

- Efficient Transmission of Power Generated Offshore -
Furukawa Electric Co., Ltd. has been selected as an intended outsource company for the "Next-generation Offshore DC Power Transmission System Development Project" run by the New Energy and Industrial Technology Development Organization (hereafter, NEDO). The development project will start this year and run for five years, with the goal of establishing fundamental technologies toward expanding interconnectedness and accelerating the implementation of offshore wind power.
Background
In a multiterminal DC power transmission system, power generated from multiple wind farms installed offshore is collected and converted to DC at multiple offshore transformer substations. The system then transmits the power to multiple terrestrial transformer substations. Power is transmitted as DC (which offers little transmission loss) between offshore transformer substations and terrestrial transformer substations or other offshore transformer substations, allowing generated power to be transmitted efficiently over long distances. The multiterminal functionality of the system makes it possible to efficiently transmit power to existing systems with a large number of connections, which has been generated from multiple wind farms installed in locations that are suitable for wind power generation but are remote from locations with large-scale demand. This capability means that new terrestrial transformer substations will not need to be built.
Content
Furukawa Electric will take part in the development of a multiterminal DC power transmission system that is compatible with offshore wind power generation, as implemented by NEDO. This development project was proposed by a consortium of companies led by Tokyo Electric Power Company, Incorporated. Furukawa Electric and VISCAS Corporation will be responsible for developing elemental technologies for seabed DC cable systems.
The Furukawa Electric Group was among the first to realize the potential of offshore wind power generation, and has begun working toward making this technology a reality. The Furukawa Electric Group had previously participated in planning NEDO's open sea implantation-type offshore wind power verification experiment in Kitakyushu and the Fukushima reconstruction floating offshore wind farm verification research project run by the Ministry of Economy, Trade and Industry, in which the Furukawa Electric Group contributed leading-edge technologies such as riser cables and seabed power transmission cables.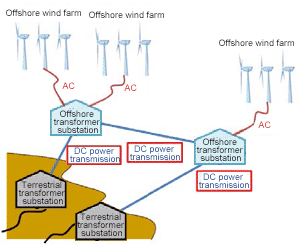 Furukawa Electric will continue to research technologies in order to become a sustainable energy company, with the ultimate goal of expanding the implementation of offshore wind power generation.
About Furukawa Electric Group
Furukawa Electric (TSE; 5801, ISIN; JP3827200001) Group started business in 1884, when its copper-smelting facility and wire manufacturing factory was established. Since then Furukawa Electric has become pioneers in the latest technologies by addressing diverse technological issues. Furukawa Electric has released products in a number of areas, including telecommunications, electronics, automobiles, and construction, with the three types of materials it works with at their core, namely, optics, plastics, and metals. Many of these products have attained the top global market share, and all of its products have contributed to society in numerous business areas. Furukawa Electric reported consolidated revenues of JPY 867.8 billion (approximately USD 8.2B) for the fiscal year ended March 31, 2015.