Greetings from President Mitsuyoshi Shibata at 2015 Welcoming Ceremony for New Employees
Congratulations to all of this year's new employees on joining the Furukawa Electric Group companies, which are spread throughout the world. We welcome you wholeheartedly.
I think there are many among you who entered university right after the Great East Japan Earthquake struck in 2011. A great many people were affected, and this was a traumatic event for the world as well. This event called for thorough preparation against another threat of nature and a serious response to the energy problem. The Furukawa Electric Group can make a significant contribution toward solving these problems by drawing on the products and technologies that we have cultivated over many years. Based on our rich material technology, we advance technological development for upgrading and optimizing the use of energy and information, and we aim to achieve our catchphrase, which is "to make the world brighter."
This is the final year of the medium-term management plan, "Furukawa 'G' Plan 2015." In this plan, we act from the optimal point of view of the entire Group, advance the "focus on the infrastructure and automotive markets" as well as the "construction of a foundation for sustainable growth," and aim to achieve "improvements in our financial structure." Toward that end, we need to become a vibrant and creative corporate entity, drawing on our diverse human resources and the combined strength of the Furukawa Electric Group companies.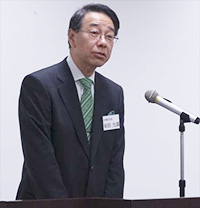 At this point, I would like to ask three things of you as you join the Group.
The first is to be "fair and square."
Universality and rationality are the judgment criteria in order to continue expanding the business globally. Although we need to be continuously profitable in order for the company to enjoy continued growth, our mission is also to "contribute to society" through our business activities. I would like you to be fair and honest, with high ethical standards as employees and members of the Furukawa Electric Group.
The second is to have the "spirit of challenge."
In order for the Furukawa Electric Group to always continue winning, we need to anticipate the needs of our customers and continue launching new products one after another. It is particularly important that we have the "speed" and aggressive "spirit of challenge" to surpass our competitors with a broad perspective, and that we steadily acquire knowledge, technology, and experience. I believe the vitality of the company is born through bold change without exception, winning out in tough environments for business.
The third is to "work cheerfully."
Health and safety are important in order to work cheerfully. We need to have a different response from the past with respect to safety in particular, and I think you will certainly encounter many difficulties as you proceed with your work going forward. It is precisely when you face difficulties that you learn something, and these encounters should be opportunities to gain valuable experience leading to the next. There are many colleagues around you who you will work with, and I would like you all to overcome these difficulties and grow together.
Finally, the arena for all of you new employees extends without limit. I want you to always remember that the growth of each one of you contributes to the growth of the Furukawa Electric Group in the future.
I would like you to strive to become a "person who makes the world brighter," doing a great job in the world, while you pay careful attention to health and safety. I have great expectations for your efforts.
About Furukawa Electric Group
Furukawa Electric (TSE; 5801, ISIN; JP3827200001) Group started business in 1884, when its copper-smelting facility and wire manufacturing factory was established. Since then Furukawa Electric has become pioneers in the latest technologies by addressing diverse technological issues. Furukawa Electric has released products in a number of areas, including telecommunications, electronics, automobiles, and construction, with the three types of materials it works with at their core, namely, optics, plastics, and metals. Many of these products have attained the top global market share, and all of its products have contributed to society in numerous business areas. Furukawa Electric reported consolidated revenues of JPY 931.8 billion (approximately USD 9.3B) for the fiscal year ended March 31, 2014.