Holding of a Ceremony to Mark the 30th Anniversary of the Founding of an Optical Fiber Cable Manufacturing Company in China

- We will continue to contribute to the establishment of communications infrastructure in cooperation with our Chinese partners -
Furukawa Electric group's Furukawa Electric Xi'an Optical Communication Co., Ltd. (investment ratio: Furukawa Electric 49%, Hengtong Group 46%; Xian City, Shaanxi Province, China; CEO: Song Haiyan; hereinafter referred to as "FXOC") recently held a commemorative ceremony to in Xi'an City to welcome the 30th anniversary since the founding of the company in 1986.
Background
Demand for optical fiber cable continues to accelerate thanks to the rapid diffusion of smart phones and tablets, and the optical fiber market is expanding globally. China in particular is the most important market, taking up more than 50% of global demand, so the further development of FXOC, which has marked its 30th anniversary, is expected.
The origins of FXOC lie in Xi'an Furukawa Fiber Optic Cable Co., Ltd., China's first optical fiber cable manufacturing company, which Furukawa Electric Co., Ltd. and Xi'an Cable Factory Co., Ltd. established in a joint venture in 1986. The company subsequently changed name when investment from the Hengtong Group was accepted in 2011.
Details
FXOC recently marked the 30th anniversary since the founding of the company in 1986, holding a commemorative ceremony at a hotel in Xi'an City, China on July 22. The ceremony included people related to the Xi'an City government and the management teams of the Hengtong Group and the company, and was conducted grandly with about 300 people from inside and outside the company.
Song Haiyan, the CEO of FXOC, talked about his passion for business, saying "I feel prouder than anything to be working with all my power on a job that connects the world as a member of the optical fiber communications industry." In addition, Masao Yoshida, Chairman and Director of the company said "I believe that we can enjoy higher growth and revenue than now if we work with our world class technological abilities, sales abilities and motivation.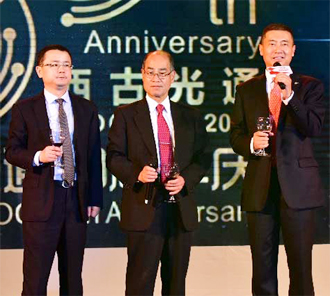 FXOC overview
Company name: Furukawa Electric Xi'an Optical Communication Co., Ltd.
Description of business: Manufacture and sale of optical fiber cables
Shareholders: Furukawa Electric Co., Ltd. 49%, Hengtong Group 46%, others 5%
Number of employees: 475 people
Hengtong Group overview
Group name: Hengtong Group
Description of business: China's largest system integrator and service provider in the optical and electrical network area
Number of employees: 12,000 people
About Furukawa Electric Group
Furukawa Electric (TSE; 5801, ISIN; JP3827200001) Group started business in 1884, when its copper-smelting facility and wire manufacturing factory was established. Since then Furukawa Electric has become pioneers in the latest technologies by addressing diverse technological issues. Furukawa Electric has released products in a number of areas, including telecommunications, electronics, automobiles, and construction, with the three types of materials it works with at their core, namely, optics, plastics, and metals. Many of these products have attained the top global market share, and all of its products have contributed to society in numerous business areas. Furukawa Electric reported consolidated revenues of JPY 874.9 billion (approximately USD 8.0B) for the fiscal year ended March 31, 2016.