Development Completed for World's Top Class Standard Heatsink Compatible with High Intensity 500W LEDs

- Compatible with Citizen Electronics CLU550 -
Furukawa Electric Co., Ltd. has completed development of HYC500, the world's top class new standard heatsink that is capable of dissipating heat from COB LEDs for 500W illumination. It is the only standard heatsink compatible with the new Citizen Electronics CLU550 COB series product.
Background
LED illumination that uses light-emitting diodes (LED) continues to rapidly grow popular due to the long operating lives and low power consumption of the technology. Although light from LED light sources contains very little heat, most of the applied power is converted to heat generated from the LED elements. It is therefore necessary to implement comprehensive measures to dissipate heat for high power LED illumination exceeding several hundred watts, such as floodlights used in sports fields and stadiums.
Heat dissipation components formed from solid pieces of metal (such as aluminum die-cast or extruded products) are generally used now to dissipate heat generated from LEDs used for illumination. However, with LEDs for illumination growing ever more powerful and heating elements becoming denser due to the implementation of chip-on-board (COB) designs that mount LED elements directly on boards, aluminum die-cast and extrusion products can no longer dissipate heat sufficiently. High power, high density LED heat dissipation therefore requires devices with superior heat conduction, such as heat pipes.
Content
Furukawa Electric has completed development of HYC500, the world's top class new standard heatsink that is capable of dissipating heat from COB LEDs for 500W illumination.
As with its existing HYC130c and HYC200 products, Furukawa Electric has leveraged the electronic product heat dissipation and cooling technologies and knowledge it has accumulated for many years in developing HYC500. HYC500 offers high heat dissipation performance while weighing less than 10% of conventional die-cast/extruded heat dissipation components. Its unique design features cutting edge heat pipes that offer high capacity thermal transport and that are efficiently placed among fan-shaped heat dissipation fins shaped to maximize heat dissipation performance, for an overwhelming presence and thermal performance unseen in heat dissipation components until now.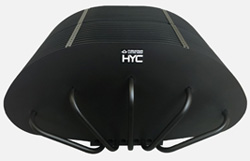 Furukawa Electric will conduct lighting demonstrations for this product during the Lighting Japan "8th Light-Tech Expo" to be held from January 13th this year at Tokyo Big Sight. Furukawa Electric can be found in E36-18 in the East Hall. In addition to HYC500, other as of yet unreleased 30 W to 300 W products will be exhibited for viewing.
HYC special website
A site dedicated to HYC has been added to the Furukawa Electric thermal products website on January 12th of this year. In addition to providing detailed information such as product features and datasheets, Furukawa Electric plans to also offer the latest product information by email to those who register at the site.
About Furukawa Electric Group
Furukawa Electric (TSE; 5801, ISIN; JP3827200001) Group started business in 1884, when its copper-smelting facility and wire manufacturing factory was established. Since then Furukawa Electric has become pioneers in the latest technologies by addressing diverse technological issues. Furukawa Electric has released products in a number of areas, including telecommunications, electronics, automobiles, and construction, with the three types of materials it works with at their core, namely, optics, plastics, and metals. Many of these products have attained the top global market share, and all of its products have contributed to society in numerous business areas. Furukawa Electric reported consolidated revenues of JPY 867.8 billion (approximately USD 8.2B) for the fiscal year ended March 31, 2015.