KANZACC Co., Ltd.
Mass Production Begun for Silver-Plated Aluminum Wire

- Sales ratio of aluminum wire to be raised above 50% -
KANZACC Co., Ltd. (main office: Osaka, President: Hisakazu Ishibashi), a member company of the Furukawa Electric Group, has begun mass producing silver-plated aluminum wire, and will begin bringing products to the market in full force. KANZACC is working to accelerate the conversion from copper to aluminum throughout the industry by combining its plating and electric wire technologies, and aims to increase the aluminum wire sales ratio of its electric wire business to at least 50% by the FY2020.
Content
KANZACC has continued to bring tin- and copper-plated aluminum wires to the market. These products feature thin and even plated coatings that are highly-rated for their ability to offer the electrical connectivity that bare aluminum wires have trouble with.
Noticing an increasing demand for aluminum wires, KANZACC has established a system to produce added-value silver-plated aluminum wires in addition to traditional tin- and copper-plated products. KANZACC has already introduced mass production facilities for plating, and intends to expand the market with its production system that boasts a manufacturing capacity of 30 tons/month (100 tons/month converted into copper).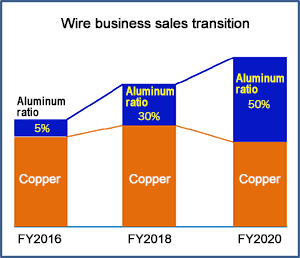 Features
Plating can be selected according to the application—from silver, to tin, copper, and more.
Ideal for high-frequency applications, the thickness of the coating can be set according to the frequency.
General-use terminals for copper wires can be used for connections.
Production can be integrated, from plating to twisting and coating.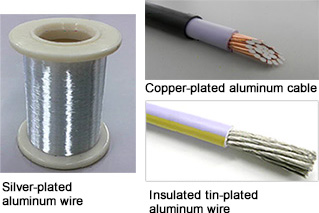 About KANZACC Co., Ltd.
| | |
| --- | --- |
| Established: | January 1920 |
| Capital: | 720,755,000 yen |
| President: | Hisakazu Ishibashi |
| Head office: | 2-1-9 Dojimahama, Kita-ku, Osaka |
| Main products: | Electric wires/cables, plated processed goods, metallic pipes/corrugate |
| Ratio of stock held by Furukawa Electric: | 99.9% (as of March 2016) |
About Furukawa Electric Group
Furukawa Electric (TSE; 5801, ISIN; JP3827200001) Group started business in 1884, when its copper-smelting facility and wire manufacturing factory was established. Since then Furukawa Electric has become pioneers in the latest technologies by addressing diverse technological issues. Furukawa Electric has released products in a number of areas, including telecommunications, electronics, automobiles, and construction, with the three types of materials it works with at their core, namely, optics, plastics, and metals. Many of these products have attained the top global market share, and all of its products have contributed to society in numerous business areas. Furukawa Electric reported consolidated revenues of JPY 867.8 billion (approximately USD 8.2B) for the fiscal year ended March 31, 2015.