Furukawa Electric Receives an Order for a Very Large Scale Ultra-high Voltage Power Cable Laying Project in Singapore

- The quality of our ultra-high voltage power cables and our project management systems were evaluated highly -
Furukawa Electric Co., Ltd. received an order from Singapore Power Ltd. on a full turnkey basis for a 400 kV cross-linked polyethylene ultra-high voltage power cable laying project. This is the first adoption of 400 kV cross-linked polyethylene ultra-high voltage power cable in Singapore and it will be a project on the largest-scale. The value of the order is about 14 billion yen and construction is planned for completion in March 2019.
Background
Entertainment facilities such as large casinos and Universal Studios are being constructed one after the other in the Republic of Singapore and along with greater numbers of tourists, demand for electricity is increasing rapidly. Furthermore, Singapore places importance on scenery from its perspective as a tourism-oriented country so it has not adopted cheap overhead power transmission lines like a lot of other Southeast Asian nations. The country's power grid is composed of underground transmission lines.
Details
Furukawa Electric recently received an order from Singapore power for a project that will deliver and install a 400 kV cross-linked polyethylene ultra-high voltage power cable system (with a cable length of about 115 km).
Furukawa Electric and Furukawa Electric Engineering Singapore (a wholly-owned subsidiary of Furukawa Electric based in the Republic of Singapore; President: Noboru Ishii) submitted the bid jointly. The project was initially announced divided into 2 sections, but due to the track record of accident-free operation with the power cables delivered by Furukawa Electric in Singapore to this point, and Furukawa Electric's strong project management capabilities, which were highly evaluated, it was determined that the orders for both sections would go to Furukawa Electric.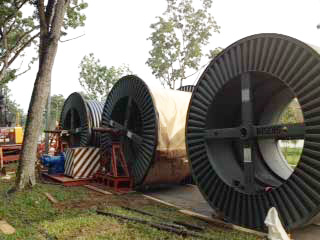 Furukawa Electric is the only Japanese wire and cable manufacturer that has established a construction base at a local subsidiary qualified (L6) to participate in bids for large public works in Singapore, directly employs talented engineers, jointers and other workers, and is carrying out consistent management from order receipt to completion. Furukawa Electric has secured an overwhelming market share in Singapore's market for ultra-high voltage power cables of 230 kV or more, contributes to the country's domestic power supply, and has received high evaluations from Singapore Power.
Singapore formerly laid its cables by burying them directly underground, but the country is currently constructing a dedicated cable tunnel with a total length of 35 km (6 m diameter). This dedicated cable tunnel is scheduled for completion in the second half of fiscal year 2017. A large quantity of ultra-high voltage power cables are planned to be laid in this tunnel, centered on the 400 kV cross-linked polyethylene ultra-high voltage power cable adopted this time, and the tender for the cable has already been announced.
Furukawa Electric's policy will be to continue making positive efforts towards the receipt of orders for this kind of project in various areas overseas including Singapore, which is continuing its steady economic development, and to contribute to economic development in all countries based on the supply of power.
Project overview
Project name: 400 kV ultra-high voltage cross-linked polyethylene power cable laying project (between West Jurong and Labrador)
Voltage: 400 kV
Total length: About 115 Km
Order value: About 14 billion yen
About Furukawa Electric Group
Furukawa Electric (TSE; 5801, ISIN; JP3827200001) Group started business in 1884, when its copper-smelting facility and wire manufacturing factory was established. Since then Furukawa Electric has become pioneers in the latest technologies by addressing diverse technological issues. Furukawa Electric has released products in a number of areas, including telecommunications, electronics, automobiles, and construction, with the three types of materials it works with at their core, namely, optics, plastics, and metals. Many of these products have attained the top global market share, and all of its products have contributed to society in numerous business areas. Furukawa Electric reported consolidated revenues of JPY 874.9 billion (approximately USD 8.0B) for the fiscal year ended March 31, 2016.