First Ultralight Low Voltage Branch Aluminum Power Cable Supplied

- Molded for insulation, helps to reduce weight and labor -
Furukawa Electric Co., Ltd. has supplied the first "Ultralight Hybrid Building Harness Cable" ("Ultralight Hybrid BH Cable" hereafter) as part of low voltage trunk line in the research accommodations built by the Hazama Ando Corporation inside a technical research laboratory. Ultralight Hybrid BH is a low voltage branch cable developed by Furukawa Electric that uses an aluminum conductor as the trunk cable conductor.
Background
Low voltage branch cables molded for insulation are widely used to supply power from the electrical room to each floor of buildings and condominiums. In this case, cable manufacturers connect as many branch cables as needed, wherever they are needed.
Recently, it is becoming increasingly important to reduce labor due to shortages of workers on construction sites and the aging population of Japan. Although copper is generally used as the conductive material in cable, there are concerns over price fluctuations in bear metals.
Content
The Ultralight Hybrid BH products supplied for this project use aluminum as the conductor for the trunk cable, which largely determines product weight. The product offers a weight of around half that of current Furukawa building harness cable. When compared with a copper conductor cable with the same current-carrying capacity, although the trunk cable is one grade larger, it weighs roughly 30% less.
Using a copper conductor in the branch cable and connecting it with the trunk cable ahead of time at the factory makes it simple to connect with existing equipment, such as electricity meter and distribution panels.
Furthermore, the branch mold section has been newly designed to make it more compact, allowing it to pass through existing floor through-holes without having to modify their size.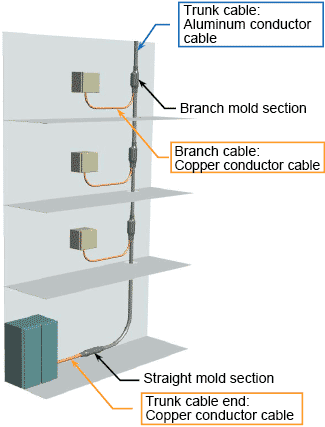 The product was developed jointly with Furukawa Electric Industrial Cable Co., Ltd. (main office: Arakawa-ku, Tokyo; Representative: Koichiro Matsumoto), a member company of the Furukawa Electric Group. It offers the same high reliability of the Furukawa building harness cable, but includes the latest technology to take advantage of the benefits of aluminum conductors. There is no difference when it comes to connecting the new cable to equipment or passing it through existing through-holes. However, the new product can reduce the amount of labor required for many tasks, such as unloading drums or transporting, cross-cutting, or hanging cable.
Furukawa Electric continues to develop the "Furukawa Raku Raku Product" series, which are labor-saving, simple, easy to handle, time-saving, and easy to maintain—all qualities required at work sites suffering from labor shortages. Furukawa Electric plans to increase sales of Ultralight Hybrid BH to 100 million yen by 2018 FY.

Overview of Structure where Ultralight Hybrid BH Cable was Supplied
Supplied to
Hazama Ando Corporation TTC Tsukuba (TTC=Technology Training Center)
Reinforced concrete (RC) construction
Three stories, total floor space of 2,755.58 m2, 120 separate lodging rooms
Supplied product
One bundle of Ultralight Hybrid BH Cable, a low power branch cable
・Trunk cables: 600 V AL-CVT 3 × 100 mm2 (+600 V Cu-CVT 3 × 60 mm2)
・Branch cables: 600 V Cu-CVT 3 × 22 mm2
About Furukawa Electric Group
Furukawa Electric (TSE; 5801, ISIN; JP3827200001) Group started business in 1884, when its copper-smelting facility and wire manufacturing factory was established. Since then Furukawa Electric has become pioneers in the latest technologies by addressing diverse technological issues. Furukawa Electric has released products in a number of areas, including telecommunications, electronics, automobiles, and construction, with the three types of materials it works with at their core, namely, optics, plastics, and metals. Many of these products have attained the top global market share, and all of its products have contributed to society in numerous business areas. Furukawa Electric reported consolidated revenues of JPY 874.9 billion (approximately USD 8.0B) for the fiscal year ended March 31, 2016.