Furukawa Electric has developed the S179, a new type of Hand-held Core Alignment Fusion Splicer

- Superior operability, high speed fusion splicing, heating reinforcement, tough body -
Furukawa Electric Co., Ltd. has newly developed and started sales of the "S179" as the successor model to the "S178," a direct core monitoring fusion splicer.
We are aiming to develop the use of this product in various fields including fiber lasers and optical parts manufacture, not just for applications connecting optical fiber for communications.
Background
In workplaces where optical fiber connection is carried out, it is not only the basic characteristic of connecting optical fiber stably with low losses that is called for – things like the operability of the equipment, operating times and durability, etc. are also important factors.
The Company has strived towards product manufacture meeting all of these aims in a high dimension, and recently revised all of its designs to input new products aiming even higher.
This is a single core optical fiber-dedicated product type that directly inspects optical fiber cores to align the fibers with high precision so it can be used in various situations including main line to FTTH construction work and optical product manufacturing plants, etc.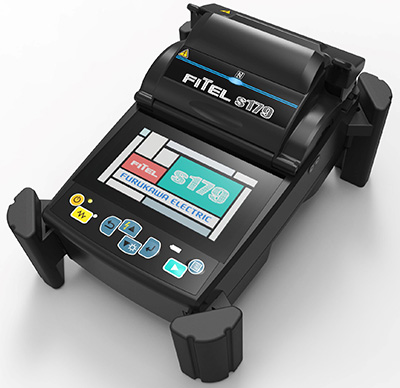 Features of the product
Superior operability
Wide LCD with touch panel
Easy management of splice data via smart phone
High speed fusion splicing, high speed heating reinforcement
Splice time: 6 sec, Heating time: 9 sec
Tough body
More robust or equal to conventional FITEL splicer
Comments
Start date for shipments   June 2017
About Furukawa Electric Group
Furukawa Electric (TSE; 5801, ISIN; JP3827200001) Group started business in 1884, when its copper-smelting facility and wire manufacturing factory was established. Since then Furukawa Electric has become pioneers in the latest technologies by addressing diverse technological issues. Furukawa Electric has released products in a number of areas, including telecommunications, electronics, automobiles, and construction, with the three types of materials it works with at their core, namely, optics, plastics, and metals. Many of these products have attained the top global market share, and all of its products have contributed to society in numerous business areas. Furukawa Electric reported consolidated revenues of JPY 843.3 billion (approximately USD 7.8B) for the fiscal year ended March 31, 2017.