New Vehicle-mounted Perimeter Monitoring Radar with the World's Most Advanced Detection Performance has Entered Mass Production

- Expected to significantly contribute to making future automatic operating systems -
Furukawa Automotive Systems Inc. (HQ: Shiga Prefecture; President: Katsumi Shibata; hereinafter, FAS), a member of the Furukawa Electric Group and the first company in Japan to successfully develop a perimeter monitoring radar, has now begun mass producing said product for inclusion in the new Mazda CX-5. These radars are necessary components for the advanced driver assistance systems (ADAS) needed by next generation automobiles.
The FAS-developed perimeter monitoring radar utilizes the pulse method(note 1) to provide accurate recognition in a wide range of environments, and the angle measurement method(note 2) for increased data stability. Combined, both technologies deliver the world's most advanced detection and stability.
Background
Recently, heightened awareness of vehicle safety has accelerated the pace at which sensors have developed for practical use. Vehicle safety technology is increasingly being applied toward preventing collisions and reducing the number of accidents. ADAS, one such technology that helps drivers to drive safely, is expected to play a role in the self-driving cars of the future.
Perimeter monitoring radars are capable of detecting obstacles toward the front and rear of a vehicle as well as in its blind spots—even in poor weather—and are effective in maintaining vehicle safety, so expectations are growing for these products as sensors. However, there were still many unresolved issues when it came to accurately detecting obstacles in a wide range of environments.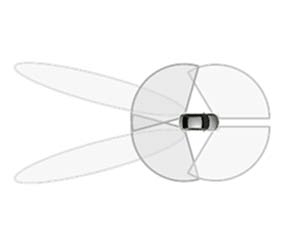 Content
Having successfully developed a 24 GHz (ISM band) rear perimeter monitoring radar that offers the world's most advanced detection performance and stability, FAS has now begun mass producing the product. European-made perimeter monitoring radars accounted for a large share of the market until now; however, with this new development, perimeter monitoring radars are now mass produced in Japan, making it possible to offer flexible support from the vehicle development phase. The product has been selected for use in the new Mazda CX-5, which will launch in February this year.
The signal transmission and high frequency technologies the Furukawa Electric Group has developed over many years in creating products such as high capacity optical communication equipment and dead zone countermeasure systems have been combined and applied toward developing this new perimeter monitoring radar. FAS plans to reach perimeter monitoring radar-related sales of 10 billion yen in the FY2020, by working to further improve detection performance and stability, and by proposing the use of the product in a variety of vehicle models.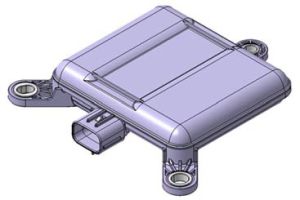 (note 1)Pulse method:
A method used to detect distance and relative velocity, in which pulse waves are transmitted and then returning waves are detected.
(note 2)Angle measurement method:
A method used to provide horizontal direction measurement functionality, in which measurement of a comparatively wide angular range at a high angular resolution capability is required. Some other methods include beam switching, phased array, digital beam forming, and monopulse.
Features
Vehicle-mounted radars generally use the frequency modulated continuous wave (FMCW) method(note 3). However, the FAS product uses the pulse method to accurately and simultaneously detect vehicles, bicycles, pedestrians, and other obstacles. It also utilizes digital beam forming (in which the phase information from four beams is used to calculate the angle) as an angle measurement method to further improve data stability.
1. Advanced separation performance
The FMCW method detects distance and relative velocity based on frequency, so there are concerns that target reception signals could be interfered by highly reflective objects. In contrast, the pulse method detects distance and relative velocity on both the temporal and frequency axes, allowing it to separately detect the distance and relative velocity of multiple targets, such as vehicles, bicycles, and pedestrians. The angle measurement method is also used to provide even more stable angle detection.

2. Excellent mountability
The FAS product uses two-axis detection to significantly reduce the effect of neighboring highly reflective objects, minimizing design restrictions on vehicle bumpers and other parts.

3. Extreme vicinity detection
The high sensitivity around the radar makes it possible to detect extremely close targets.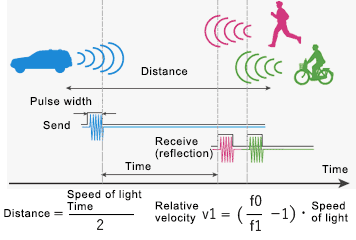 Major perimeter monitoring radar differences
(note 3)Frequency modulated continuous wave (FMCW) method:
A method in which frequency modulated (FM) continuous waves (CW) (i.e. waves where the transmitted wave frequency varies periodically) are transmitted, and then waves reflected back from the target are received. The difference in the sent and received wave frequencies (beat frequency) is measured to determine distance.
About Furukawa Automotive Systems Inc.
| | |
| --- | --- |
| Established | November, 1950 |
| Capital | 3,000,000,000 yen |
| President | Katsumi Shibata |
| Head office | 1000 Amago, Koura-cho, Inukami-gun, Shiga |
| Business operations | Design, development, manufacture and sale of wire harnesses (cable assembly for automobiles), related electronic products and other in-car functional products |
| Ratio of stock held by Furukawa Electric: | 100% |
About Furukawa Electric Group
Furukawa Electric (TSE; 5801, ISIN; JP3827200001) Group started business in 1884, when its copper-smelting facility and wire manufacturing factory was established. Since then Furukawa Electric has become pioneers in the latest technologies by addressing diverse technological issues. Furukawa Electric has released products in a number of areas, including telecommunications, electronics, automobiles, and construction, with the three types of materials it works with at their core, namely, optics, plastics, and metals. Many of these products have attained the top global market share, and all of its products have contributed to society in numerous business areas. Furukawa Electric reported consolidated revenues of JPY 874.9 billion (approximately USD 8.0B) for the fiscal year ended March 31, 2016.