Furukawa Automotive Systems Greatly Expands Lineup of Corrosion-proof Terminals for Automobile Wire Harnesses

- Expanding the use of aluminum and helping to make automobiles more environmentally friendly -
Furukawa Automotive Systems Inc. (HQ: Inukami-gun, Shiga Prefecture; President: Katsumi Shibata; hereinafter, FAS), a member of the Furukawa Electric Group, has greatly expanded its lineup of corrosion-proof terminals ("α Terminal Series") for use with aluminum wires found in automobile wires harnesses (W/H). Full scale mass production was launched in January of this year.
α Terminal Series products offer a range of benefits including superior anti-corrosion properties and compatibility with existing connector housings. Expanding the types of situations in which α Terminal Series products can be used will further accelerate the use of aluminum W/H and help to make automobiles more environmentally friendly.
Background
Recently, the use of aluminum W/H has been attracting attention as manufacturers continue to make automobiles lighter—and due to the recent depletion and increasing costs of copper resources. Some have calculated that using aluminum in large SUVs could reduce the weight of W/H anywhere from 30% to 40%, helping to improve the fuel efficiency of these vehicles.
However, if we are to use aluminum W/H it will be crucial to take measures against dissimilar metal corrosion that occurs in terminal areas, in order to obtain satisfactory electrical connections between aluminum wires and terminals made from copper alloys. Until now, there were several factors preventing the widespread use of aluminum W/H. For example, conventional aluminum W/H required a separate work process when crimping terminals during manufacturing (which resulted in increased manufacturing costs), and also required dedicated connector housings(note 1) (making them unsuitable for general purpose use).
FAS has successfully developed the α Terminal Series of corrosion-proof terminals, which offer world-leading anti-corrosive performance and reduced anti-corrosion treatment costs, and can be used with existing connector housings. FAS has been mass producing 090 size(note 2) terminals (tab width of 2.3 mm; applicable wire range of 0.75 mm2 to 2.5 mm2; eight types in total) since August 2015.
(note 1)Connector housing:
A part that stores the terminals crimped to the electrical wires. It provides electrical insulation between poles, and fits/holds male and female terminals together. These general purpose parts come in a wide range of variations to meet a variety of W/H needs, with different numbers of poles or terminal arrangements for each type of terminal.
(note 2)090 size:
Connector size is normally expressed using the tab width of the male terminals. A larger number indicates a larger connector.
Content
FAS has recently added two new sizes (060 and 025) to the α Terminal Series product lineup, both of which are smaller than 090 size products. Mass production launched in January of this year. With these new sizes, the α Terminal Series now consists of 25 types of products, greatly expanding the range of circuits that can be used with W/H.
The newly developed α Terminal Series products are already being used in the new Lexus LV500 and LC500h models that were launched in March of this year. The ratio of aluminum used in the parts of the W/H manufactured by FAS inside both models was increased from 3% to 25%, further reducing the weight of the W/H.
FAS plans to focus its efforts on sales of terminal products, by expanding its mass production system for α Terminal Series products and establishing a sales system for crimping equipment compatible with α Terminal Series products required for W/H manufacturing.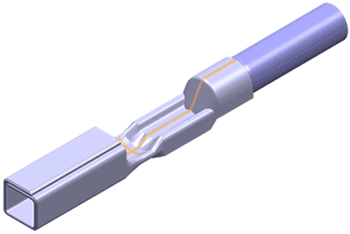 α Terminal Series Product Lineup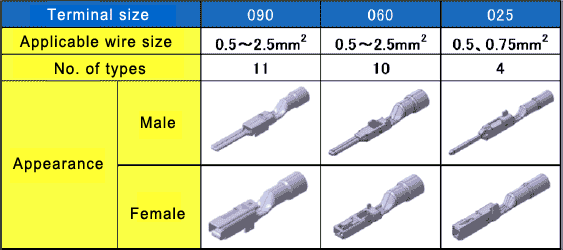 Furukawa Automotive Systems Inc. Company Outline
| | |
| --- | --- |
| Founded | November 1950 |
| Capital | 3 billion yen |
| President | Katsumi Shibata, Representative Director |
| Headquarters | 1000 Amago, Koura-cho, Inukami-gun, Shiga |
| Major products | Wire harnesses, related electronic products, and other in-car functional products |
| Ratio of stock held by Furukawa Electric | 100% (as of April 2017) |
About Furukawa Electric Group
Furukawa Electric (TSE; 5801, ISIN; JP3827200001) Group started business in 1884, when its copper-smelting facility and wire manufacturing factory was established. Since then Furukawa Electric has become pioneers in the latest technologies by addressing diverse technological issues. Furukawa Electric has released products in a number of areas, including telecommunications, electronics, automobiles, and construction, with the three types of materials it works with at their core, namely, optics, plastics, and metals. Many of these products have attained the top global market share, and all of its products have contributed to society in numerous business areas. Furukawa Electric reported consolidated revenues of JPY 874.9 billion (approximately USD 8.0B) for the fiscal year ended March 31, 2016.