Opening ceremony of the Essex Furukawa Magnet Wire Europe facility in Bad Arolsen, Germany
A new investment focused on the production of High Voltage Winding Wires, an innovative product to deliver benefits and efficiencies for the next generation of automotive electrical powertrains.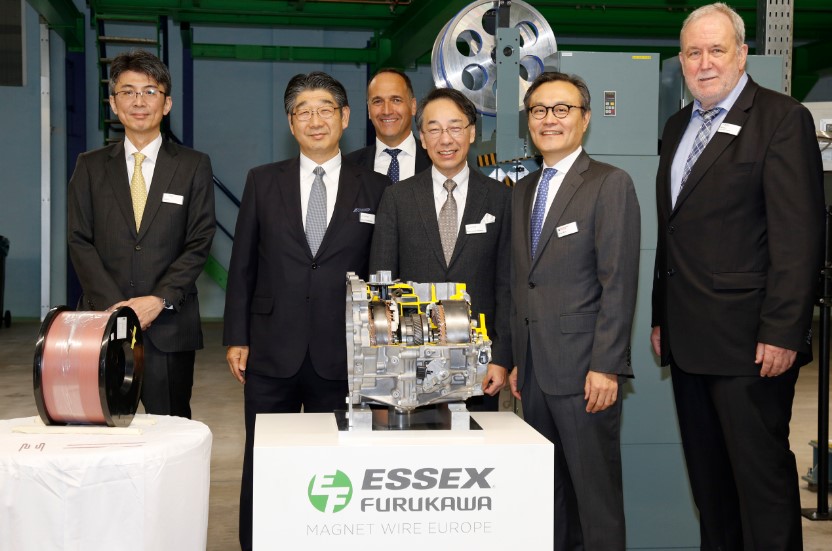 Essex Furukawa Magnet wire Europe are proud to announce the completion of the High Voltage winding wire facility, based in its existing plant in Bad Arolsen, Germany.
On November 8th in the presence of the board members of both Essex Europe and Furukawa Electric, customers and local authorities, the opening ceremony was held to showcase to the audience the new facility dedicated to these specialty wires and the new production lines.
This innovative High Voltage wire, based on an enameled rectangular wire over-coated with extruded resin, brings with it exceptional characteristics which will give the automotive industry new opportunities to downsize the motors and increase efficiency for electric vehicles.
Following high levels of interest shown by the car manufacturers and tier one suppliers in the past few months, with technical exchange about this new wire, Essex Furukawa Magnet wire is now in a position to supply samples to allow customers the opportunity to test this new wire for integration in their future developments.
About Essex Group, Inc.—a Superior Essex Inc. Company
Superior Essex Inc. manufactures and distributes copper and aluminum wire and cable products that power and connect everything from homes and data centers to electric vehicles and mobile devices. For over 85 years, Superior Essex has been serving the magnet wire/winding wire, communications and related distribution markets.
Its Essex subsidiary holds top market share in North America and Europe providing the automotive, industrial, energy and commercial and residential markets with seamless delivery and service from facilities in seven countries.
Dedicated to resolving customer's challenges while positively impacting our communities worldwide, Superior Essex, and its divisions, continue to push boundaries in technology, sustainability, and innovation. For more information, visit superioressex.com.
About Furukawa Electric Co., Ltd.
Furukawa Electric Co., Ltd. (TSE: 5801) started business in 1884, when its copper-smelting facility and wire-manufacturing factory was established. Since then Furukawa Electric has become pioneers in the latest technologies by addressing diverse technological issues.
Furukawa Electric has released products in a number of areas, including telecommunications, electronics, automobiles, and construction, with the three types of materials it works with at their core, namely, optics, plastics, and metals. Many of these products have attained the top global market share, and all of its products have contributed to society in numerous business areas. Furukawa Electric reported consolidated revenues of JPY 843.3 billion (approximately USD 7.8B) for the fiscal year ended March 31, 2017.