Furukawa Electric Launches "Square EFLEX" Underground Cable-protecting Pipe to Help Eliminate Power Poles

- The perfect pipe for compact multi-strip piping helps to reduce costs -
Furukawa Electric Co., Ltd. has added a new square type product to its "EFLEX" series of underground cable-protecting pipes. These products are perfect for locations requiring multi-strip piping to protect cables, such as initiatives by national or local government to promote the elimination of power poles, and for redevelopment leading up to the Tokyo Olympics.
Background
Underground cable-protecting pipes are a type of pipe conduit used to protect cables buried underground. "EFLEX" was the first underground cable-protecting pipe developed by Furukawa Electric in Japan. Featuring a round cross-section for excellent strength when buried underground, this resin corrugated pipe is lightweight, easily bent, and offers superior workability. Since it was first released 50 years ago in 1967, it has been used in a wide variety of applications, from small-scale electrical work to large-scale public works.
With the passage of the "Power Pole Elimination Promotion Bill" at the end of last year, Japan is expected to bury more of its cables underground as a means of preventing disaster and improving scenery. However, these initiatives face several issues—for example, there is limited space under roads to bury cables and associated construction costs are high. There is thus a growing need for cable-protecting pipes in which several strips can be piped together in a compact manner, even when cabling in tunnels or redevelopment sites where multiple cables are already installed in narrow spaces.
Content
Furukawa Electric has completed developing "Square EFLEX," a new entry in its "EFLEX" series. The product will begin launching in June of this year. Like "EFLEX," "Square EFLEX" is a resin corrugated pipe that is light and easy to bend. The peaks of the corrugated surface are square, while the valleys are round, allowing several pipes to be stacked together in multiple levels.
With previous multi-strip multi-level piping, installers were required to combine straight and bent pipe (such as PVC pipe) and then stack them together using pipe stands. "Square EFLEX," however, is easily bent by hand, eliminating the need for bent pipes. It can also be stacked directly (eliminating the need for pipe stands) and allows for compact piping capable of reducing excavation and other construction costs. Furukawa Electric also offers a rich lineup of couplers that offer the same excellent workability and water stopping characteristics that have won "EFLEX" products such high praise. Furukawa Electric can provide comprehensive systems to suit any construction site.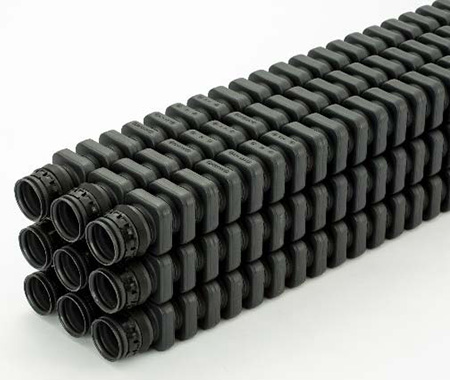 Furukawa Electric will continue to develop the underground pipe technologies it has accumulated over the last 50 years as a cable manufacturer, in order to propose highly reliable systems that minimize construction times, from its position as a top manufacturer of flexible protective pipes for electric cables.
About Furukawa Electric Group
Furukawa Electric (TSE; 5801, ISIN; JP3827200001) Group started business in 1884, when its copper-smelting facility and wire manufacturing factory was established. Since then Furukawa Electric has become pioneers in the latest technologies by addressing diverse technological issues. Furukawa Electric has released products in a number of areas, including telecommunications, electronics, automobiles, and construction, with the three types of materials it works with at their core, namely, optics, plastics, and metals. Many of these products have attained the top global market share, and all of its products have contributed to society in numerous business areas. Furukawa Electric reported consolidated revenues of JPY 843.3 billion (approximately USD 7.8B) for the fiscal year ended March 31, 2017.