2017 FY New Employee Welcoming Ceremony, Greeting from President Keiichi Kobayashi
Congratulations on joining the Furukawa Electric team.
I was appointed to this position on April 1, so you are the first group of new employees I am welcoming as president. Today, I am extremely happy to welcome 107 new members to the team.
As you all know, world affairs continue to change drastically, moment by moment. However, the Furukawa Electric Group is also undergoing great changes. This is especially true as group management and globalization continue to develop. Our total of over 115 companies and just under 50,000 employees are spread throughout the world, and our overseas sales ratio is on the verge of exceeding 50%.
We have continued to maintain and develop our business since our founding in 1884. This is because we have carried on the philosophy, policies, culture, and traditions of Furukawa Electric employees who came before us, as we continue to respond to environmental changes and meet the requirements and expectations of society and our customers. You could say that our long history is proof of the fact that we have won the trust of both society and our customers.
The Furukawa Electric Group values our shared philosophy and values. We have selected five keywords that serve as our "core values." These are values that we find particularly important and want to strengthen. They are "integrity," "innovation," "addressing reality," "ownership and speed," and "collaboration." I ask that you treasure these values and always keep them in mind as you work.
Now, I would like to ask three things of you when you start working.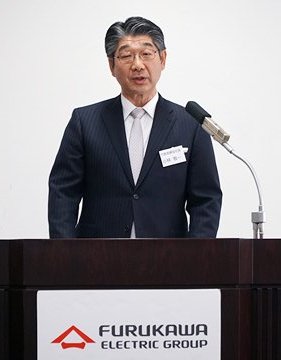 If you are unsure about something, ask someone
First, I ask you not be afraid to say you do not understand something. You may be hesitant to do this, out of fear of being scolded for asking questions.
This can lead you to feeling embarrassed if you do not know something. Then, before you know it, you start feeling embarrassed to ask questions. However, the real embarrassment is not knowing something—and then not doing anything about it. If there is something you do not understand, do something about it. Otherwise, you will never develop your skills. If you do not ask questions about something of which you are unsure, it could eventually cause a major problem. Have the courage to say, "I don't know." Learn everything you can from your managers and senior colleagues, and continue to grow as professionals.
Always keep "quick response" in mind
My second request is to keep "quick response" always in mind. Our business climate continues to change and technological innovations continue to develop at a truly remarkable speed. There is no guarantee that something that seems right today will be right tomorrow. Nowadays, speed is becoming increasingly important in business.
Work is not something you do alone, but is something done in collaboration with customers, business partners, your managers and colleagues, and many others. You therefore need to be able to respond to questions from these people as quickly as possible. You also need to share information you obtain quickly with those around you.
Every quick response adds up to make a difference—increasing the speed at which Furukawa Electric management runs, keeping our customers happy, and serving as a strength of Furukawa Electric.
Stay happy and healthy as you develop your professional skills
My third request is to stay happy and healthy as you develop your skills with an enthusiastic and tenacious outlook.
Work is not something you are just assigned. It is something that requires thought on your part. Rather than just doing what your manager or a senior colleague tells you to do, you should work proactively with an enthusiastic and tenacious outlook—in other words, to own your work. As productive members of society, much of our lives are spent working. Working with a sense of enthusiasm and tenacity is truly living a full life. I would also like you to maintain a youthful outlook and to stay happy and healthy as you develop your skills.
Over the course of your careers, you will surely run into major obstacles. It is important to keep a positive outlook at all times and to stay happy and healthy as you work. Doing so will make any effort less difficult, and maintaining this outlook will ultimately open many doors for you. A positive outlook will also convince others to offer support and cooperation.
Finally, I want to mention one thing. You are all stepping onto a massive stage that spreads across the globe. I ask that you keep safety and health in mind as you challenge yourselves to do amazing work on the global stage.
Welcome to Furukawa Electric. We are expecting great things from all of you.
About Furukawa Electric Group
Furukawa Electric (TSE; 5801, ISIN; JP3827200001) Group started business in 1884, when its copper-smelting facility and wire manufacturing factory was established. Since then Furukawa Electric has become pioneers in the latest technologies by addressing diverse technological issues. Furukawa Electric has released products in a number of areas, including telecommunications, electronics, automobiles, and construction, with the three types of materials it works with at their core, namely, optics, plastics, and metals. Many of these products have attained the top global market share, and all of its products have contributed to society in numerous business areas. Furukawa Electric reported consolidated revenues of JPY 874.9 billion (approximately USD 8.0B) for the fiscal year ended March 31, 2016.