Participation in the "IkuBoss Corporate Alliance"

- Aiming to become a corporate group we can be proud of, where everyone can work with enthusiasm and continue to grow -
Furukawa Electric Co., Ltd. has recently become a member of the "IkuBoss Corporate Alliance" sponsored by Specified NPO Fathering Japan (Representative Director: Tetsuya Ando). As part of this alliance, we will further strengthen our activities for diversity promotion and work style reformation allowing us to "nurture human resources at every level, so that we can become a more diverse and creative corporation."
Background
The term "IkuBoss" refers to supervisors (executives and managers) who consider the work-life balance of the subordinate personnel and staff members they work together with, supporting the careers and lifestyles of those workers and producing results for their organization while also being able to enjoy their own business and personal lives. The "IkuBoss Corporate Alliance" is a corporate network which recognizes the great importance of such supervisors. It carries out measures for active reforms in the awareness of manager-level personnel while promoting the spread of activities to develop the "IkuBosses" who will be the ideal work supervisors of a new era.
Content
Our company has recently become a member of the "IkuBoss Corporate Alliance" sponsored by Fathering Japan.
Our President Kobayashi comments as follows about our admission into the "IkuBoss Corporate Alliance": "In order for us to become and move forth as a corporate group we can be proud of where everyone can work with enthusiasm and continue to grow, we will position work style reformation and diversity promotion as our management strategies. Starting with myself, we will accelerate our reformation of the awareness and actions of leaders in our Group, to become an organization able to attain even greater results. This "IkuBoss Declaration" will also be a trigger for communication with employees to create opportunities where all of our members can shine brilliantly in leading roles, and to build a circle of "IkuBosses" within our company who can successfully balance the growth of the company with the enrichment of their own lives."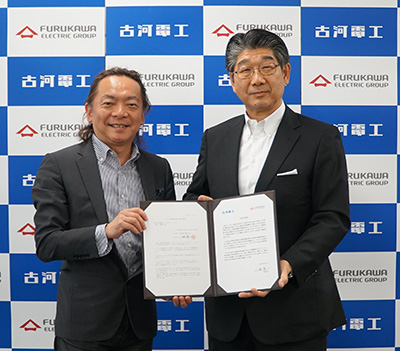 Our Company's "IkuBoss Declaration"
Our Group has set the goal to "nurture human resources at every level, so that we can become a more diverse and creative organization" as its Management Philosophy. Under this vision, our diverse employees will be able to feel deep motivation for their work and demonstrate their individual strengths as they also uphold common values and standards for judgment, showing their unity under the "One Furukawa" concept while aiming to generate new values and continuing to grow. We established a Diversity Promotion Section in 2014, and in 2015 we formed a Work Style Reformation Project Team which is currently promoting such activities.
From here on, our company will arrange systems to support the highly varied values and work styles of our employees. At the same time, we believe it is truly important for all individual employees to improve their consciousness of productivity in given time periods and to achieve results quickly, while independently managing their work-life balances to enrich their lifestyles with future prospects in mind for both their careers and personal lives.
Looking toward these goals, executive personnel will first of all set examples by leadership, as managers promote diversity and practice work style reformation themselves. Then, while keeping in mind the three key points of offering opportunities to others, expecting great results from others, and cultivating skills and abilities, we will create more and more "IkuBosses" who can nurture their workers, organization, society, and themselves, to develop a climate where we all can produce outstanding results while learning from each other.

About Furukawa Electric Group
Furukawa Electric (TSE; 5801, ISIN; JP3827200001) Group started business in 1884, when its copper-smelting facility and wire manufacturing factory was established. Since then Furukawa Electric has become pioneers in the latest technologies by addressing diverse technological issues. Furukawa Electric has released products in a number of areas, including telecommunications, electronics, automobiles, and construction, with the three types of materials it works with at their core, namely, optics, plastics, and metals. Many of these products have attained the top global market share, and all of its products have contributed to society in numerous business areas. Furukawa Electric reported consolidated revenues of JPY 843.3 billion (approximately USD 7.8B) for the fiscal year ended March 31, 2017.