Okano Cable Develops UL-compatible Ultra-thin and Highly Bendable LAN Cable

- Ideal for movable part wiring in severe environments for industrial robotics and machine vision -
Okano Cable Co., Ltd. (Headquarters: 1-5-28 Fukami-Nishi Yamato-Shi Kanagawa; President: Masaru Seto), a member of the Furukawa Electric Group, has developed the industry's first thin industrial LAN cable that withstands repeated bending, and will begin selling the product in September 2018. The UL-certified product uses a special conductor developed by Furukawa Electric to achieve a degree of bendability 1.5 times greater than conventional products.
Background
With recent advances in the automation and high performance of manufacturing equipment, there is a growing need in the industrial robotics field for industrial LAN cables that can be run in small spaces inside severe environments.
Okano Cable has taken a leading role within its industry in developing high-density industrial LAN cables, such as launching a mobile ultra-thin LAN cable in 2014 with an outer diameter of only 4.0 mm—the thinnest in the industry. Okano Cable has now developed a UL-certified product after receiving many requests from its customers.
Details
Based on its popular ultra-thin mobile LAN cable, Okano Cable applied the alloy strip and process design technologies it developed together with Furukawa Electric to develop a UL-certified highly flexible industrial LAN cable. This product is just as thin as the previous product at an outer diameter of only 4.0 mm, but is also capable of withstanding a 90° bending test 15 million times or more (1.5 times that of conventional products). It also offers a dual shielded structure for a high level of noise resistance and yet is thin, light, and flexible—making it the ideal LAN cable for use with industrial robotics and other equipment used in severe environments.
Specifications & characteristics


High flexibility: Withstands a bending test 15 million times or more


Cable bear test: 40 million times or more


Twisting test: 10 million times or more


Allowable tension: 500 N


Outer diameter: 4.0 mm


Weight: Approx. 25 kg/km


UL standard: 80°C rated value 60 V compatible


Communication standard: Cat.5e equivalent


Major uses: Compatible with industrial robotics and other similar equipment, and offers excellent oil resistance, thermal resistance, flame resistance, and flexibility.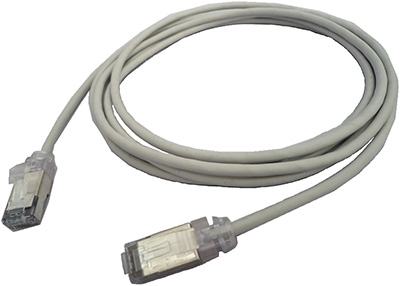 For more information about this product
Okano Cable Co., Ltd. Information Transmission Sales Division
TEL: +81-46-261-3122
About Furukawa Electric Group
Furukawa Electric (TSE; 5801, ISIN; JP3827200001) Group started business in 1884, when its copper-smelting facility and wire manufacturing factory was established. Since then Furukawa Electric has become pioneers in the latest technologies by addressing diverse technological issues. Furukawa Electric has released products in a number of areas, including telecommunications, electronics, automobiles, and construction, with the three types of materials it works with at their core, namely, optics, plastics, and metals. Many of these products have attained the top global market share, and all of its products have contributed to society in numerous business areas. Furukawa Electric reported consolidated revenues of JPY 967.3 billion (approximately USD 8.7B) for the fiscal year ended March 31, 2018.