Furukawa Electric Develops the New Light, Simple, and Flexible Rakuraku Cable System

-New products to help improve working efficiency during low voltage cable construction and streamline related work -
Furukawa Electric Co., Ltd. has developed two new products for release in June 2018. "Rakuraku Cable" is a high-performance low-voltage CV cable with an aluminum conductor, while "Rakuraku Cable System" is a series of products including special terminals, a terminal block, and a special tool, all for use with Rakuraku Cable.
The system will be shown during the JECA FAIR 2018-66th Electrical Construction Equipment and Materials Fair held from May 23, 2018.
Background
Cross-linked polyethylene insulated vinyl sheath cables (CV cables, below) are widely used for the indoor wiring inside buildings, condominium buildings, factories, and commercial facilities.
Construction sites are increasingly troubled by worker shortages and the aging population, and improving productivity is a top priority at these sites. Even so, the need for equipment to help improve working efficiency and streamline related work has continued to grow.
Although copper conductors are generally used in CV cables, there are concerns over fluctuating prices for bare metals due to the fluctuating cost of copper metal at a high price range, and procuring cable continues to be an issue.
Content
"Rakuraku Cable," the high-performance low-voltage aluminum conductor cable
[Light]
Furukawa Electric has developed "Rakuraku Cable," a high-performance low-voltage aluminum conductor CV cable. Because it uses an aluminum conductor, it is roughly only half the mass of a conventional CV cable (at the same size). Although Rakuraku Cable is one to two cable sizes larger than current CV cable of the same current-carrying capacity, it has a mass of around 30% less even at the increased size.
[Simple]
The insulation material has also been improved, allowing the covering to be stripped much more easily than with conventional CV cable—at both room temperature and low temperatures.
[Flexible]
In addition to improving the insulation material, Furukawa Electric has also optimized the conductor configuration, resulting in roughly three times the bendability of conventional CV cable.
These features allow "Rakuraku Cable" to reduce labor during transport (such as unloading drums, transporting, and cross-cutting), cable laying (such as feeding, drawing, extending, and organizing cable), and terminal treatment (such as straightening terminals or stripping covering).
Special terminals for aluminum conductors
There are three technical issues involved in using aluminum conductors in cables: the oxide film on conductor surfaces, dissimilar metal contact corrosion, and stress relaxation. When using aluminum conductor cables, special terminals must be used that incorporate technical elements to resolve these issues.
Based on the overhead power transmission/distribution and aluminum conductor connectivity technologies (such as wire harnesses for automobiles) it has developed over many years, Furukawa Electric has developed special terminals for Rakuraku Cable in collaboration with crimping terminal and terminal block manufacturers. These special terminals use the popular "crimping style" to reduce the workload on workers as much as possible when treating terminals.
Aluminum terminal blocks
These aluminum terminal blocks use a terminal mounting plate made from aluminum alloy. Aluminum terminal blocks are around 30% lighter than conventional terminal blocks made from copper alloys. The surface of the terminal mounting plate is also nickel-plated, making it possible to also mount conventional copper terminals.
Special tool: Stripping & brushing tool
The surfaces of aluminum conductors are covered in an oxide film. This oxide film is an insulator, so a steel wire brush must be used when treating the terminal to remove the film from the surface of the aluminum conductor. Furukawa Electric has developed a new tool to reduce this brushing work and to improve the consistency of work quality.
In addition to brushing, this tool is also used to strip covering, so the worker can brush as he or she strips the covering—greatly improving productivity when treating terminals for aluminum conductor cables.
"Rakuraku Cable System" is now ready for release thanks to the collaboration of the following manufacturers.
"Rakuraku Cable" (the high-performance low-voltage aluminum conductor cable):
Furukawa Electric Industrial Cable Co., Ltd.(Head Office: Arakawa-ku, Tokyo, President: Koichiro Matsumoto)
Special crimping terminal:
Fuji Terminal Industry Co., Ltd. (Head Office: Nishi-ku, Osaka, President: Tatsuya Hongo)
Aluminum terminal block:
Fuji Electric Industry Co., Ltd. (Head Office: Nakagyo-ku, Kyoto, President: Satoshi Yagi)
"Rakuraku Cable System," which includes all of these products, offers the following benefits to customers.
Reduce labor during cable construction (such as transport, cable extension, cable organization, terminal treatment, and removal)
Reduce labor during procurement thanks to one-stop support for required equipment
Avoid risk of copper price fluctuations caused by fluctuations in copper metal prices
Reduce cost of procuring cable
Prevent theft and lower back injuries (helps to keep work safe and secure)
The Furukawa Electric Group will continue to develop products under the "Furukawa Electric Rakuraku" brand to help sites suffering from labor shortages by offering reduced labor, simplicity, ease of use, reduced construction times, and reduced maintenance. Furukawa Electric plans to expand net sales for "Rakuraku Cable" to 2.1 billion yen by the 2020 FY.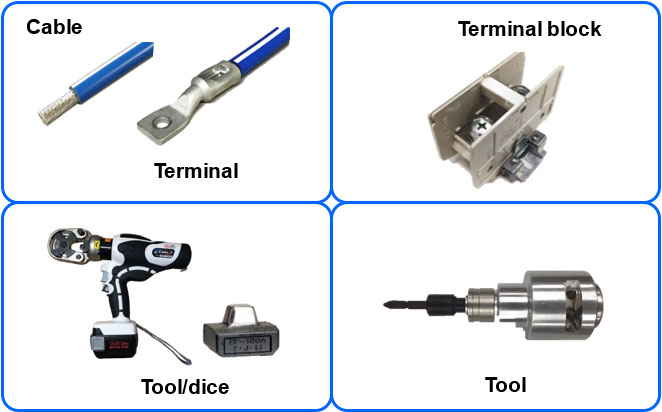 About Furukawa Electric Group
Furukawa Electric (TSE; 5801, ISIN; JP3827200001) Group started business in 1884, when its copper-smelting facility and wire manufacturing factory was established. Since then Furukawa Electric has become pioneers in the latest technologies by addressing diverse technological issues. Furukawa Electric has released products in a number of areas, including telecommunications, electronics, automobiles, and construction, with the three types of materials it works with at their core, namely, optics, plastics, and metals. Many of these products have attained the top global market share, and all of its products have contributed to society in numerous business areas. Furukawa Electric reported consolidated revenues of JPY 967.3 billion (approximately USD 8.7B) for the fiscal year ended March 31, 2018.