President Keiichi Kobayashi's Comments at the Start of 2018 (Summary for Employees)

- Becoming truly strong team and setting a firm course towards sustained profitable growth -
Happy New Year! I hope you all enjoyed a wonderful New Year holiday. I'd like to deliver some message as we welcome the start of a new year.
Promoting "Safety First"
Firstly, we need to promote "Safety First". This is something that I will continue to remind us of above all else. Ensuring safety is an absolute given for achieving growth together as a group. In all circumstances, this needs to be our number one, top priority.
I am fully determined to put our slogan into practice every day - "For this day, decide to be disaster-free!", so please tackle your work every day with a determination to avoid all accidents.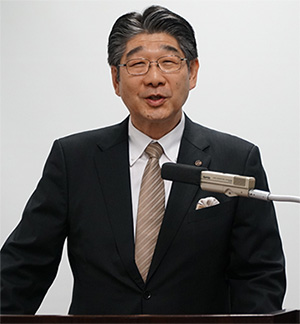 Protecting quality while cherishing the value of "Integrity"
Secondly, we need to focus on "Quality". Last year, serious quality problems have arisen by one of the Monozukuri manufacturer that caused great sensation. Once a quality problem has occurred, not only does this bring a sensation, it also led to lose customer confidence and relationships with them.
I often talk of the need to switch from "Just selling products" to "Selling solutions". "Selling solutions" means delivering our proudly-made products meeting each customers' needs and assisting each customers' achievement they aim. If we lose our customers' confidence because of quality problems, we will no longer be able to do this.
This is why we need to cherish the value of "Integrity". Let's make sure we firmly protect quality and offer "solutions" with our products meet their needs. Doing so will allow us to embody our Corporate Philosophy so that we can be seen as true partners.
Accelerating our growth as an organization by understanding, respecting and trusting each other.
Thirdly is that "building a company that excites each and every one of us while keeping a foundation of safety and quality. In order to achieve this, it is important that we share our ideas and promote the realization of our ideal situation and vision. Each of us needs to play a leading role in holding thorough dialogue to promote mutual understanding and share a vision as an organization, so that we can build "teams" capable of fighting towards the same goals. All of these teams are united under the banner of Furukawa Electric Group.
The most important thing to achieve that is creating an environment that allows all of us to "share one's idea openly" and to "be ourselves". By building relationships that allow us to understand, respect and trust each other, we can accelerate our growth as an organization.
This year, we need to step up our efforts to promote this type of culture as robustly as possible. This is what will lead to "work style reform" at Furukawa Electric Group.
By achieving these three, we will become a truly strong team, overcome numerous challenges, become leaders in the infrastructure and automotive fields, as well as in integrated business fields, and set a firm course towards sustained profitable growth.
Let's combine our strengths to build a company where every one of us can work and go home every day with smiles.
About Furukawa Electric Group
Furukawa Electric (TSE; 5801, ISIN; JP3827200001) Group started business in 1884, when its copper-smelting facility and wire manufacturing factory was established. Since then Furukawa Electric has become pioneers in the latest technologies by addressing diverse technological issues. Furukawa Electric has released products in a number of areas, including telecommunications, electronics, automobiles, and construction, with the three types of materials it works with at their core, namely, optics, plastics, and metals. Many of these products have attained the top global market share, and all of its products have contributed to society in numerous business areas. Furukawa Electric reported consolidated revenues of JPY 843.3 billion (approximately USD 7.8B) for the fiscal year ended March 31, 2017.