Furukawa Electric Receives "Top 100 Global Innovators 2017" Award

High Praise for Our Innovative IP Activities to Develop Global Business
Furukawa Electric Co., Ltd. has been selected in the "Top 100 Global Innovators 2017" awards, judged by Clarivate Analytics (headquarters: Philadelphia, U.S.A.; Japan office: Minato-ku, Tokyo), and on June 12, Furukawa Electric received a trophy from the company. The intellectual property activities of the Furukawa Electric Group have been recognized in the awards three times so far, with the last award received in 2015.
Furukawa Electric received high praise in the criteria of "success," which is based on the rate of patents granted, "globalization," which is an indicator of patents applied for in the United States, Europe, China, and Japan, and "influence," which is an indicator of the frequency at which a company's patents is cited in the inventions of other companies.
Background
This award signifies high global approval of our intellectual property activities toward new technologies that will carry future business. We believe that our selection for the award is a result of our work in R&D activities and IP activities carried out under the banner of strategy and globalization, and as such, we will continue to work to bolster these activities even further.

Left: Satoshi Sakurai, IP Solutions Senior Director, Clarivate Analytics Japan

Right: Tetsuro Ijichi, Corporate Senior Vice President and CTO, Furukawa Electric Co., Ltd.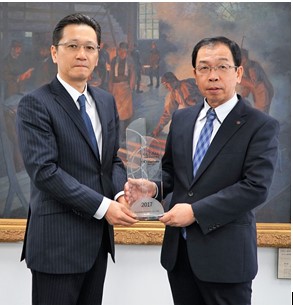 About the "Clarivate Analytics Top 100 Global Innovators" Award
Since 2011, Thomson Reuters has been analyzing global patent trends and selecting the world's top 100 most innovative businesses and research institutions to receive awards. Recipients of the award are selected based on four metrics: volume (number of patents), success (number of patents granted), globalization, and influence (number of times cited). Clarivate Analytics was formerly the Intellectual Property and Science business of Thomson Reuters, and as of autumn last year, became independent from the company.
About Furukawa Electric Group
Furukawa Electric (TSE; 5801, ISIN; JP3827200001) Group started business in 1884, when its copper-smelting facility and wire manufacturing factory was established. Since then Furukawa Electric has become pioneers in the latest technologies by addressing diverse technological issues. Furukawa Electric has released products in a number of areas, including telecommunications, electronics, automobiles, and construction, with the three types of materials it works with at their core, namely, optics, plastics, and metals. Many of these products have attained the top global market share, and all of its products have contributed to society in numerous business areas. Furukawa Electric reported consolidated revenues of JPY 967.3 billion (approximately USD 8.7B) for the fiscal year ended March 31, 2018.