Nano ITLA developed for Optical Digital Coherent Communications
Furukawa Electric has successfully developed a next generation ultra-micro, narrow linewidth ITLA(note 1) (Nano ITLA).
This product offers benefits of significant miniaturization, reduced power consumption and narrow linewidth (targeting multi-level modulation up to 64 QAM).
This development is expected to contribute greatly to the faster speed and larger capacity of next-generation optical fiber communication systems as a key device that supports digital coherent optical transmission of 600 Gbps and above.
Development of such systems is advancing globally in response to forecasts of dramatic traffic increases in the 5G era.
Nano ITLA samples for general release are planned for the first quarter of 2020.
It is planned that this product be showcased at ECOC 2019 (one of the world's largest international conferences on optical technology) in Dublin, Ireland, from September 22, 2019.
(note 1)ITLA: A key part of the ultrafast optical digital coherent transmission devices capable of speeds exceeding 100 gigabits per second (100 Gbps) whose full-scale introduction is advancing worldwide.
Background
In recent years, the volume of telecommunications traffic in core telecommunications networks and between data centers has been increasing globally, with the spread of smartphones, cloud computing and online video distribution, etc. The advent of the 5G era is expected to further dramatically increase traffic.
In response to such increasing traffic, the introduction of ultrahigh speed transmission systems of 600 Gbps or more using the optical digital coherent(note 2) technology is advancing. within the optical digital coherent system, narrow linewidth, high output power tunable wavelength lasers are incorporated as key components, acting as light sources for signal light and local oscillators. (note 3) Due to increased mounting density demands, etc., the development of small, low power consumption optical digital coherent transceivers such as QSFP-DD and OSFP, etc., have advanced, and the wavelength tunable light source lasers mounted on these transceivers must also be ultra-small and consume lower power.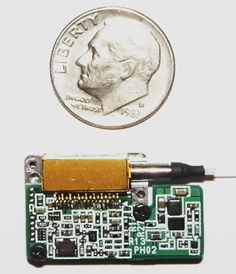 (note 2)Optical digital coherent: A transmission method that uses the optical phase (wave status) for improved resistance to signal deterioration and noise. Digital signal processing is used to detect optical phase information in order to transmit a large amount of information over a low bandwidth.
(note 3)Local oscillator: A light source used locally to interfere with signal light in order to extract phase information from transmitted data. This requires narrow line width properties.
Content
The Nano ITLA has enabled size reduction of approximately 50% on previous models, measuring 25 mm x 15.6 mm x 6.7 mm.
This significant miniaturization enables integration into the QSFP-DD and OSFP, etc.
The command interface is compatible with the standards created by the OIF(note 4) and can be introduced into optical communication equipment easily.

(note 4)OIF (Optical Internetworking Forum): A global organization that promotes standards related to optical networking equipment and their optical components.
Nano ITLA
(Target specifications)
Conventional Furukawa Electric product
(FJL-series)
Wavelength variable width
1528 – 1564 nm (C band)
1528 – 1564 nm (C band)
Optical output
17 dBm
18 dBm
Line width
100 kHz
150 kHz
Wavelength stability
<±1.5 GHz
<±1.5 GHz
Power consumption
3 W
5 W
Size
25(L)x15.6(W)x6.7(H)mm
37.5(L)x20(W)x7(H)mm
About Furukawa Electric Group
Furukawa Electric (TSE; 5801, ISIN; JP3827200001) Group started business in 1884, when its copper-smelting facility and wire manufacturing factory was established. Since then Furukawa Electric has become pioneers in the latest technologies by addressing diverse technological issues. Furukawa Electric has released products in a number of areas, including telecommunications, electronics, automobiles, and construction, with the three types of materials it works with at their core, namely, optics, plastics, and metals. Many of these products have attained the top global market share, and all of its products have contributed to society in numerous business areas. Furukawa Electric reported consolidated revenues of JPY 991.6 billion (approximately USD 8.9B) for the fiscal year ended March 31, 2019.