Announcing the Development of Technology to Regenerate Single-use Plastics into High Strength Reinforced Plastics

- A New Solution to the Global Plastic waste crisis -
Tokyo, Japan 28th May Furukawa Electric has announced a new technology to regenerate single-use plastics and waste paper into high strength reinforced plastics using a unique single process.
Collected post-consumer plastic is often mixed with paper and various types of plastic, resulting in low mechanical strength, and is unsuitable for material recycling. Due to this, majority of the collected plastic waste worldwide is incinerated, land-filled, or rejected. Our new technology now makes it possible to regenerate single-use plastics into higher strength reinforced plastics, using only plastic waste and waste paper.
Furukawa Electric has been in collaboration with the world's leading food packaging company Tetra Pak and their recycling partner Veolia, a global resource management company, in relation to the recycling of the extracted PolyAl from used beverage cartons.
From June 2019, the company will begin utilizing the material made from this technology into its own commercial product. Launching with a presentation of this technology at the "Plastics Recycling Technology" conference together with Tetra Pak in Germany on June 18, Furukawa Electric aims to share, and encourage implementation of this technology, by reaching out to the public authorities, the plastics industry, and the recycling industry globally.
Mario Abreu, VP Sustainability at Tetra Pak comments "We believe that an effective and long-term approach to plastic waste involves driving major improvements in recycling infrastructure worldwide. This ambition can only be achieved through partnerships. Tetra Pak and Furukawa have been working together for three years to develop a new technology and equipment to improve recycling of PolyAl from post-consumer beverage cartons. We share a commitment to stimulate sustainable recycling solutions, and increase the value of used carton packages."
David Cox, SVP Global Accounts and Markets at Veolia also notes that "no one has the monopoly on bright ideas and only through partnerships and collaboration will we find practicable solutions to the challenges that waste plastics present and, in particular, difficult to treat waste streams such as PolyAl. We are already working closely with Tetra Pak on this and see Furukawa's technology as a potential breakthrough."
Background
Approximately 40% of the total polymer resin produced in the world, is used for packaging, such as plastic bags and food packaging, which becomes waste within a year. Plastic food packages are mixed with various types of plastic and paper, making them more difficult to recycle. Therefore a solution to increase recycling of such types of packaging is needed.
For decades, Furukawa Electric has been proactively taking advantage of recycled materials, such as cable waste and recycled plastics from post-consumer packaging waste and have been using these materials in various cable-related products with long product lifetime. From 2014, we began research and development focusing on plastics with paper, and studies and investigation of the state of global recycling have been carried out in cooperation with Tetra Pak.
Details
Furukawa Electric has developed a new technology using single-use plastic and waste paper as raw materials, for regenerating into high strength reinforced plastic, using a single process. Cellulose is the primary constituent of paper, which is created by hydrogen-bonding cellulose fibers together. Normally, cellulose and plastic do not blend, but our unique and new technology, defibrates the paper into cellulose fibers and disperses it into the plastic in a single process, thereby strengthening the plastic.
Using this technology, the tensile strength of the plastic can be increased to approximately double that of its original state. As an example, plastic bags made of using low-mechanical strength plastic materials such as LDPE, can be made into high strength reinforced plastic material that is at least as strong as the plastic used for cargo loading pallets, a similar strength to PP, for which high mechanical strength is essential. Similarly, beverage cartons made with plastic film laminated to paper can be used to make material comparable to glass-fiber-reinforced plastics. Additionally, the material created through this technology can be used in injection molding and extrusion.
A pilot line is already set up and running since March 2019 at Furukawa Electric in Japan, and from June 2019, it will commence use of the material in its cable-related products. Furthermore, this technology will not be limited to use in our products only: we aim to communicate this technology to the world and drive its widespread implementation in order to contribute to improving the world environment.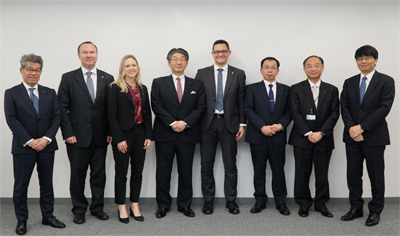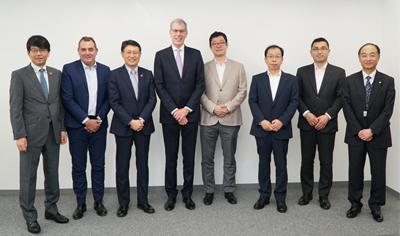 Comments
A joint presentation of this technology will be made with Tetra Pak at the Plastics Recycling Technology conference taking place in Düsseldorf, Germany on Tuesday, June 18, 2019.
Glossary
PolyAl: A byproduct of the process of recycling paper from beverage cartons. Beverage carton is composed of paper, aluminum, and polyethylene. The paper components are separated from these when used beverage cartons are collected in order to use them for recycled paper. While polyethylene is the main constituent of PolyAl, it also contains residual paper and aluminum, and therefore needs a solution to increase its value and recycling.
Inquiries Regarding the New Technology
Inquiry by E-mail
Department in charge
Furukawa Electric Co., Ltd.
Masato Ikeuchi, Recycling Project Team, AT & Functional Plastics Division /
Tel.: 0463-24-8597

Ken Yabunaka, Global Business Department, AT & Functional Plastics Division /
Tel.: 03-3286-3400
About Furukawa Electric Group
Furukawa Electric (TSE; 5801, ISIN; JP3827200001) Group started business in 1884, when its copper-smelting facility and wire manufacturing factory was established. Since then Furukawa Electric has become pioneers in the latest technologies by addressing diverse technological issues. Furukawa Electric has released products in a number of areas, including telecommunications, electronics, automobiles, and construction, with the three types of materials it works with at their core, namely, optics, plastics, and metals. Many of these products have attained the top global market share, and all of its products have contributed to society in numerous business areas. Furukawa Electric reported consolidated revenues of JPY 991.6 billion (approximately USD 8.9B) for the fiscal year ended March 31, 2019.