President Keiichi Kobayashi's Comments at the Start of 2019 (Summary for Employees)


- As fellow members of the Furukawa Electric Group, let us all aim to create such an ironclad organization -
Happy New Year! I hope you all enjoyed a wonderful New Year holiday. I'd like to deliver some message as we welcome the start of a new year.
1. Promoting "Safety First"
Firstly, we need to promote "Safety First". This is something that I will continue to remind us of above all else. Ensuring safety is an absolute given for achieving the growth of the Furukawa Electric Group. In all circumstances, this needs to be our number one, top priority.
As a top of management, every day I am fully determined to put our slogan into practice - "For this day, decide to be disaster-free!", so please tackle your work every day with a determination to avoid all accidents.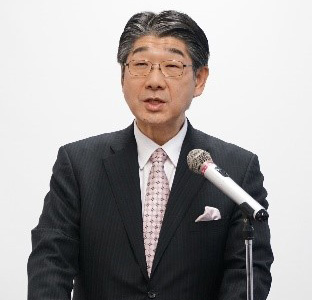 2. Protecting quality, so we can be seen as true partners
Secondly, we need to focus on "Quality". Last year, there were again many disruptions in society caused by news reports of quality-related problems. Once a quality problem has occurred, it led to lose customer confidence and relationships with them. Please focus your mind to look closely at the work you all engage in every day, and consider such examples to be valuable lessons for yourselves to improve quality.
We need to cherish the value of "Integrity", let's make sure we firmly protect quality and realize products, technology, and services that help our customers achieve the desired solutions for their jobs and projects. Doing so will allow us to embody our Corporate Philosophy so that we can be seen as true partners.
3. Each of us takes a leading role, everyone to proceed in the same direction and providing tremendous force to propel us forward.
Thirdly, I would like us to "become an organization where we can share our ideas openly".
I believe that if each of us takes a leading role and attempts to address the issues that exist before our eyes or begin new challenges, it will lead to greater motivation and a sense of achievement for us all. When attempting something new, if there is anything you require which is not sufficiently available or which cannot be covered by your efforts alone, it will be necessary to consult with your team, to borrow the strength of your supervisors at times, and furthermore to work together across the boundaries of divisions and group companies. To accomplish this, it is critical to have good relationships where people can share their ideas and speak about necessary matters when they are required.
Furthermore, it is extremely important for the entire organization to be headed in the same direction together. Speaking and actively communicating with each other over many occasions will create a strong work environment where people can "share their own ideas openly", and continuing to do so will improve the quality of their relationships. In this way, a common awareness within the organization and between organizations can be shared, allowing everyone to proceed in the same direction and providing tremendous force to propel us forward. As fellow members of the Furukawa Electric Group, let us all aim to create such an ironclad organization.
About Furukawa Electric Group
Furukawa Electric (TSE; 5801, ISIN; JP3827200001) Group started business in 1884, when its copper-smelting facility and wire manufacturing factory was established. Since then Furukawa Electric has become pioneers in the latest technologies by addressing diverse technological issues. Furukawa Electric has released products in a number of areas, including telecommunications, electronics, automobiles, and construction, with the three types of materials it works with at their core, namely, optics, plastics, and metals. Many of these products have attained the top global market share, and all of its products have contributed to society in numerous business areas. Furukawa Electric reported consolidated revenues of JPY 967.3 billion (approximately USD 8.7B) for the fiscal year ended March 31, 2018.