The World's Fastest Optical Fiber Fusion Splicer for a 5G Society

- Furukawa Electric Releases the S124M12 Optical Fiber Ribbon Fusion Splicer -
The ideal fusion splicer for the 5G communications required for sophisticated, advanced information societies and for the high-capacity, ultra-high fiber count cable splicing required for the widespread availability of data centers.
Contributes to faster, more efficient installation of the optical fibers required for higher capacity, faster information.
Dramatically improves the efficiency of optical fiber splicing work.
Furukawa Electric Co., Ltd. (Head Office: 2-2-3, Marunouchi, Chiyoda-ku, Tokyo, President: Keiichi Kobayashi) has launched sales of our newly developed S124M12 multi-core optical fiber fusion splicer.
The S124M Series is designed to enable the user to replace the fiber guide (V-groove unit) for high-precision fiber alignment on their own when splicing optical fibers together. Similarly, these fusion splicers enable the user to splice a variety of optical fiber cables simply by replacing the V-groove base frame.
Background
Coinciding with the recent dramatic increase in the amount of data traffic, data centers and metropolitan networks now require higher capacity, multi-fiber cable networks more than ever before. To meet this need, we offer space-saving, optical fiber cables consisting of rollable ribbons. In addition, we have downsized the coating diameter of the individual fibers from 250 um to 200 um and have begun offering space-saving, rollable ribbon cables consisting of 200 um diameter fibers. Meanwhile, onsite optical fiber cable installation now also requires workers to splice a variety of optical fiber cables.
The new S124M12 ribbon fiber fusion splicer is designed to enable the user to replace the V-groove unit. By replacing the V-groove unit with one for 200 um fiber rollable ribbons, the user can splice 200 um fiber rollable ribbon cables using a single fusion splicer. Moreover, the S124M Series of splicers realizes some of the fastest fusion splicing and subsequent heat reinforcement work in the world, thereby allowing users to install ultra-high fiber-count optical fiber cables in a short time.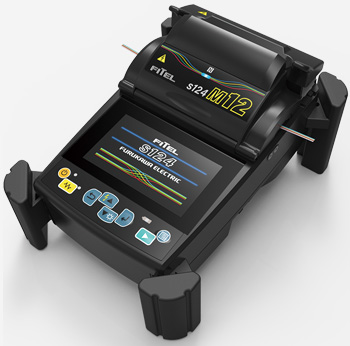 Features
Interchangeable V-groove system
200 μm coating fiber ribbon is applicable by changing V-groove
High speed splicing and heating
Easy operation with touch panel and GUI (Graphical User Interface)
Automatic fiber offset correction support mechanism
Wi-Fi connection allows wireless control and data management
Launch period