Greetings by President Keiichi Kobayashi at the FY2020 Entrance Ceremony
- Passing our baton of trust since our founding and bringing the Furukawa Electric Group to the next stage -

Share our values and aim to achieve a sustainable society through "Group Vision 2030"
Listen from others' perspectives and assert yourself to create a major driving force in work environments where you can "share own/one's idea openly"
Each of us will play a leading role in increasing what we "can" do and in attaining the "will" to do what we want
Welcome aboard everyone. I am Keiichi Kobayashi, President of Furukawa Electric. Although it is very unfortunate that we cannot all meet to hold a ceremony due to Coronavirus disease 2019 (COVID-19) pandemic, I am extremely pleased to welcome to Furukawa Electric Group our 174 new colleagues, participating today from here in our HQ and from each of our works.
As I am sure you are all aware, the world situation is changing rapidly, but our company is also changing significantly. In particular, our Group management is becoming more globalized and we now have over 120 affiliated companies spread throughout the world, with more than 50,000 group employees and an overseas sales ratio exceeding 50%. The fact that Furukawa Electric has been able to continue to exist and develop since our founding in 1884 is proof that we have inherited the philosophy, culture, and traditions of our forebears, while constantly responding to environmental changes, meeting the needs and expectations of society and our customers, and earning their trust. From today, this baton of trust will be passed to you all. Let us all work together with "passion, persistence, and pride" to bring the Furukawa Electric Group to the next stage.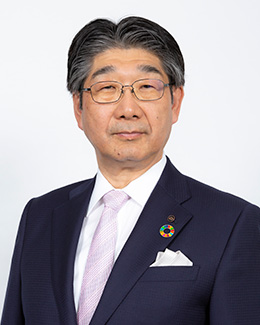 Three requests for our new colleagues
Empathize with the values of Furukawa Electric
Furukawa Electric has continued to develop and improve technologies for the "conveying, connecting, and storing" of "energy, information, and heat" for 136 years, based on our Corporate Philosophy, which states, "drawing on more than a century of expertise in the development and fabrication of advanced materials, we will contribute to the realization of a sustainable society through continuous technological innovation." However, the society which surrounds us today is undergoing rapid and extensive changes. The Furukawa Electric Group will also need to evolve if we are to contribute further to this changing society. Furukawa Electric announced "Group Vision 2030" last fiscal year as a means to clearly share our goal with regard to how we want to change. Our long-term policy states that "Furukawa Electric Group will create social infrastructure that fuses information, energy and mobility to protect the global environment and realize safe, secure, and comfortable lifestyles." We engaged in dialog with young colleagues inside and outside Japan to discuss what the group should do as a whole in order to resolve both regional and global social issues, had them forecast what they thought might happen in the future, and then took this information to come up with and revise the ideal situation for society and the Furukawa Electric Group in 2030. I would like each of you to remain aware of social changes and new social infrastructures (and understand how these are created) and would like you to continue to promote innovation based on our new vision. Let us work together toward achieving our group philosophy of "a truly affluent and sustainable society."
Listen from others' perspectives and assert yourself
I believe that if each of us attempts to address the issues that exist before our eyes or begin new challenges, it will lead to greater motivation and a sense of achievement for us all. When attempting something new, if there is anything you require which is not sufficiently available or which cannot be covered by your efforts alone, it will be necessary to consult with your team, to borrow the strength of your supervisors at times, and furthermore to work together across the boundaries of divisions and group companies. It is therefore important to have good relationships where people can share their ideas and speak about necessary matters when they are required. Furthermore, it is extremely important for the entire organization to be headed in the same direction together. Speaking and actively communicating with each other over many occasions will create a strong work environment where we can share our ideas openly and continuing to do so will improve the quality of our relationships. In this way, a common awareness within the organization and between organizations can be shared, allowing everyone to proceed in the same direction and providing tremendous force to propel us forward. As a member of the Furukawa Electric Group, I would like you to create such an ironclad organization.
Do not fear failure; increase what you "can" do to find the "will" to do what you want
I use "can" here in the sense of "what you can do," and "will" in the sense of "the will to do what you want." As you do your jobs, you will start to develop your own perception and opinions of things, and then you will have a chance to try out and apply your ideas. When that chance comes, you might stop yourself out of concern over what others might say or what problems you might cause if you fail. However, a failed effort is not necessarily a wasted effort. Think of failure as proof that you were brave enough to try something. Failure is a learning experience. We only learn new things through trial and experience. You will find a lot of things you "can" do if you continue to act without fearing failure. These things you "can" do represent your professional growth. It goes without saying that "companies are groups of people." A company's growth is the sum total of the growth of each of its employees. A company cannot grow if its employees do not grow. The things you "can" do all add up to things that Furukawa Electric "can" do. I want to ask all of you to increase what you "can" do as you work each day, and to increase your potential while widening your perspectives. I want you to grow so that you become truly needed by people and society. Once you get to that point, you should arrive at the "will" to do what you truly want to do. Doing what you "can" and having the "will" to do what you want to do is truly a wonderful way to work, and I ask all of you to give it a try.
"Three valuables" in the words of Furukawa Electric founder, Ichibei Furukawa
Ichibei Furukawa described three things to value, stating, "Value employees. Value customers. Value new technology. Then contribute to society." I believe that Furukawa Electric has been able to grow over 136 years since our founding in 1884 due to valuing his words as part of our corporate DNA. I would like all of you to keep these "three valuables" in mind as we work together to benefit society as participants building the coming world.
Welcome to the Furukawa Electric Group. I have high expectations for your future.
Furukawa Electric Group's efforts towards the SDGs
Based on the corporate philosophy of "Drawing on more than a century of expertise in the development and fabrication of advanced materials to contribute to the realization of a sustainable society through continuous technological innovation," the Furukawa Electric Group is conducting business activities centered on four core technological capabilities (metals, polymers, photonics and high frequency). Moreover, keeping in mind the "Sustainable Development Goals (SDGs)" adopted by the UN, we formulated the "Furukawa Electric Group Vision 2030," which clarified the business areas of the Furukawa Electric Group, and are advancing efforts aimed at "creating solutions for the new generation of global infrastructure combining information, energy, and mobility to build a sustainable world and make people's life safe, peaceful, and rewarding.