2021 New Year's Greeting from President Keiichi Kobayashi

- Summary for the Employees -
Transform to achieve Furukawa Electric Group Vision 2030
Three requests for the employees: safety first, seeking for quality expected by customers, empathetic management
Happy New Year!
Last year, when the COVID-19 pandemic spread around the world, international travel was restricted and citywide lockdowns were enforced, which resulted in the unprecedented challenges following the global economic slowdown. At our group, too, although the extent of the impact differed in each segment, sales were greatly lower for a while. The situation has started to recover from the third quarter, but the business environment remains challenging.
I want to express my gratitude to everyone who has continued coming into work despite the risk of infection in order to manufacture and deliver the products our customers require. I would also like to thank everyone who worked hard to prepare for a remote work environment on such short notice, as well as to all of you who have adapted to the new work styles.
The Furukawa Electric Group's corporate philosophy and SDGs — for achieving Vision 2030
However, looking at everything objectively, I feel it is possible to look at the situation as the changes that would have occurred at some point were simply accelerated by COVID-19.
For example, experiencing the risk of being infected with COVID-19 has led to increased awareness among people around the world in the importance of the SDGs, which is short for sustainable development goals. Following this change in awareness, the SDGs are viewed not just as ideological ideas but rather as actual goals to be realized and that corporate activities should naturally aim to achieve those goals.
The Furukawa Electric Group's corporate philosophy of "contribute to the realization of a sustainable society" reflects the SDGs perfectly. In addition, Vision 2030 creates a specific framework for achieving those goals.
We have the necessary technology, and the path forward is slowly starting to become visible. Directed at achieving Vision 2030, we need to re-inspect the areas in which we are lacking and be ready to transform.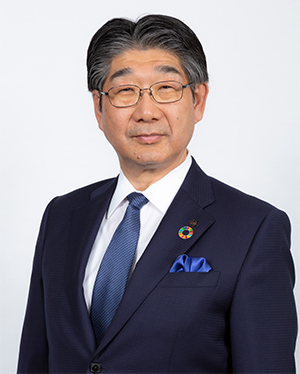 Three requests for the employees
Safety first — back to basics
In 2021, our top priority will continue to be placed on "safety first". The Five Principles for Ensuring Safety are the basic rules for safe manufacturing, such as "don't touch moving parts during machine operation". I want all of you to reflect on these basic rules and strive both individually and together with your colleagues to create a workplace that is injury free. Also, maintaining dialogue between the members working on the front lines of manufacturing and those in back-office functions is important. It is critical to talk often together about the existence of difficult work processes and strive every day to form good relationships in an effort to create a safe, comfortable workplace environment.
Seeking for quality expected by customers
Securing quality that meets customer expectations is essential for us as a group that provides high quality products and services and has contributed to society over the years.
To achieve this, it is important to identify problems during the design and development phase. Without focusing just on meeting the specifications, consider the customer's expectations for the quality and work to implement improvements from the development phase through shipping of the finished products.
Empathetic management
I have spoken in the past about my aiming to achieve "empathetic management", but following the restrictions implemented in response to COVID-19, I have realized again the importance of "empathizing" through dialogue. Over the years, I have experienced situations in which it became impossible to continue carrying out existing tasks due to a lack of "empathy", as well as times when greater than expected results were achieved through "empathy". I ask that you carry out these three requests, and directed at realizing Vision 2030, under the slogan of "Open, Agile, Innovative", let's believe in the power of "empathy" through dialogue and move forward powerfully.
Furukawa Electric Group's efforts towards the SDGs
Based on the corporate philosophy of "Drawing on more than a century of expertise in the development and fabrication of advanced materials to contribute to the realization of a sustainable society through continuous technological innovation," the Furukawa Electric Group is conducting business activities centered on four core technological capabilities (metals, polymers, photonics and high frequency). Moreover, keeping in mind the "Sustainable Development Goals (SDGs)" adopted by the UN, we formulated the "Furukawa Electric Group Vision 2030," which clarified the business areas of the Furukawa Electric Group, and are advancing efforts aimed at "creating solutions for the new generation of global infrastructure combining information, energy, and mobility to build a sustainable world and make people's life safe, peaceful, and rewarding.